Yuan Exposed to Vanishing U.S.-China Yield Gap as Much as Trade
(Bloomberg) -- The yuan could face more weakness and not only because of rising trade tensions between China and the U.S., or currency manipulation. For the first time in at least a decade, one-year Treasuries yield more than short-term Chinese debt, and BMO Capital Markets says that spells trouble for China's currency.
A relentless slump in 12-month Treasury bills has pushed the yield to 2.66 percent, edging above the 2.56 percent yield on similar-maturity Chinese securities for the first time since at least 2008. At the start of 2018, the Chinese securities yielded about 200 basis points more than the T-bills.
Diverging monetary policy on the part of the Federal Reserve and the People's Bank of China should keep that gap growing, leaving the yuan vulnerable, according to BMO. Markets expect U.S. policy makers to raise rates for a fourth time this year in December, while the PBOC eases policy to help a slowing economy.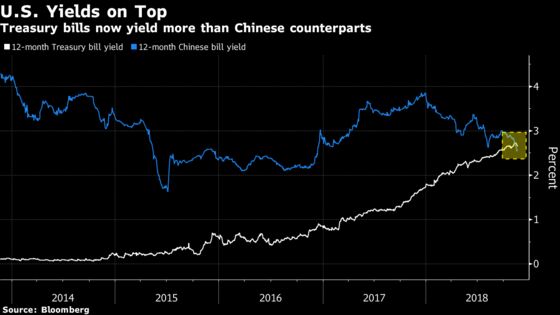 "For the first time in decades, a 12-month Treasury bill has a higher yield than one-year Chinese debt," BMO strategists including Jon Hill wrote in a note Monday. "This should put further depreciation pressure on the renminbi which would serve as a disinflationary force domestically, and help to offset the taxes on imports."
The offshore yuan has weakened about 6 percent against the dollar this year, making it one of the worst-performing Asian currencies and raising speculation that China has been deliberately weakening its currency amid trade tensions with the U.S.
BMO sees those woes deepening after U.S. Vice President Mike Pence sharpened U.S. attacks on China at the Asia-Pacific Economic Cooperation, which ended Sunday without a joint statement for the first time since 1993.