Yuan Decision May Top Bill for `Directionless' Emerging Markets
(Bloomberg) -- Emerging markets will likely be beholden this week to a series of key decisions in the U.S.
Top of the list is an announcement due as early as Monday on whether the U.S. Treasury will name China a currency manipulator, a label that may have repercussions for the next phase of the deepening trade dispute between the two countries. Then there's the Trump administration's reaction to the freeing of an American pastor held in Turkey for two years. And now, whether Washington will carry through on threats to punish Saudi Arabia over the disappearance of columnist Jamal Khashoggi if the kingdom is found to be responsible.
Whatever unfolds on those fronts will be set against a backdrop of increased concern about monetary-policy tightening around the world and warnings from finance chiefs that a trade war will hurt economic growth.
Listen here to the Emerging Markets Weekly Podcast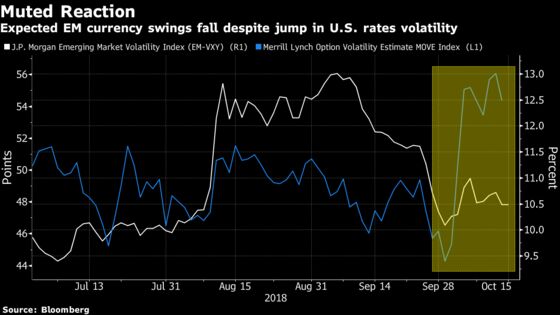 Developing-nation stocks lost more than 2 percent last week as a surge in the benchmark 10-year Treasury yield to the highest since 2011 triggered a global equities rout. Still, currencies held their own as the dollar declined, while emerging-market domestic bonds gained.
"We're still fairly cautious as market volatility is on the rise but EM is in many ways directionless," said Anders Faergemann, a fund manager at PineBridge Investments in London, which oversees $87 billion. "We seem to be ignoring both the break in U.S. Treasury yields and the equity market correction, taking our cues from the U.S. dollar, which appears to be in no man's land."
Staff at the Treasury have advised Secretary Steven Mnuchin that China isn't manipulating the yuan as the Trump administration prepares to issue its twice-yearly report on foreign-exchange practices on major trading partners, according to people familiar with the matter
The yuan has slipped about 6 percent this year, fueling speculation that Beijing has been deliberately weakening its currency amid a tit-for-tat tariff dispute with Washington. Mnuchin said the U.S. wants to make sure the depreciation isn't a "competitive devaluation"
Labeling China a currency manipulator would deepen trade tensions, which have undermined the outlook for global growth. Mnuchin said no decision has been made over whether President Donald Trump will meet Chinese President Xi Jinping next month
"There are risks that the White House may bend the rules for the Treasury and invoke old U.S. trade law to label China a 'currency manipulator,"' Viraj Patel, a foreign-exchange strategist in London at ING Groep NV, wrote in a note. "It would put a serious dent in the ability of Congress to place checks and balances on U.S. trade and foreign policy, which is arguably the more worrying outcome for global markets"
China won't use its currency as a tool to deal with trade conflicts, central bank Governor Yi Gang said
The Asian nation will unveil its first GDP report on Friday since the trade dispute with the U.S. erupted in early July. Bloomberg Economics sees growth slowing to 6.5 percent year-on-year in the third quarter, from 6.7 percent in the previous three months, as U.S. tariffs started to bite into exports and production
Consumer and production price data are due on Tuesday, while retail sales and industrial production are scheduled for Friday
Read: Don't Bet on China's Yuan Falling Past 7 This Year, Survey Shows
The U.S. may also expand the list of countries under its watch list, with Nomura Holdings Inc. and TD Securities saying Thailand may be at risk of inclusion
Dispute Over Missing Journalist
Saudi Arabia's Tadawul All Share index tumbled Sunday after Trump vowed "severe punishment" should the kingdom's leaders be responsible for Khashoggi's disappearance; Saudi Arabia has begun an internal investigation into the case at its Istanbul consulate and could hold people accountable if the evidence warrants it, according to a Saudi official
The yield on the kingdom's $5 billion debt due 2028 jumped to a record on Monday and 12-month dollar-riyal forwards headed for the biggest increase in more than three years in the offshore market. The Tadawul All Share Index added as much as 2.9 percent, rebounding from yesterday's retreat amid speculation government-related funds are boosting the securities
The Arab nation will retaliate against any punitive measures with an even "stronger" response, rejecting "any threats," the Saudi Press Agency reported, citing an official it didn't identify
Khashoggi's disappearance has prompted some company leaders to back away from the "Davos in the Desert" event intended to showcase Prince Mohammed bin Salman's modernization plan. Turkish officials alleged the Washington Post columnist was murdered in the Saudi consulate in Istanbul after entering the building on Oct. 2
"Saudi is one of the world's top oil producers, so one can't sanction Saudi in the same way that one could sanction Iran," said Richard Sneller, head of emerging-market equities at Baillie Gifford & Co. in Edinburgh. "Having said that, there are aspects of the Saudi regime that some people find less palatable and there are competing interests within Saudi as well. This is a very complicated country"
Trump said he looks forward to improved U.S.-Turkey relations after the release of U.S. pastor Andrew Brunson, but he gave no firm indication that the U.S. is preparing to lift economic sanctions against Ankara
"We were very tough on Turkey, and we'll take a look," Trump said
Investors are now shifting their focus back to the nation's fundamentals, said PineBridge's Faergemann; Turkey's budget-balance data due Monday is the most important this week, he said
The lira's one-week implied volatility fell on Friday by the most this month to 23.7 percent. The currency remains the worst performer among peers this year after Argentina's peso
Brazil's two remaining presidential candidates are scheduled to debate on Wednesday before the runoff election Oct. 28. The forum will pit right-wing lawmaker Jair Bolsonaro against Fernando Haddad of the Workers' Party, who trailed in the first-round vote
The Brazilian real rallied last week as investors bet on a victory for Bolsonaro, who they hope will pursue measures to strengthen government finances. However, the former army captain has skipped all debates since suffering a knife attack last month, and it's unclear whether he will make it to this one
The Bank of Korea will meet on Thursday, with traders expecting a tightening after inflation quickened to a one-year high. BOK Governor Lee Ju-yeol reiterated on Oct. 7 the central bank's previous stance to reduce policy accommodation remains intact in order to address mounting imbalances. Monetary authorities last raised the policy rate in November. The won is Asia's worst performer after the Indonesian rupiah this month
Chilean policy makers are widely expected to raise the main interest rate by 25 basis points to 2.75 percent. The 12-month inflation rate of 3.1 percent has exceeded the central bank's target for the first time in two years. The central bank chief Mario Marcel said it's clear that the output gap is closing and that the economy requires less monetary stimulus
Hungary's central bank will probably keep its stance unchanged on Tuesday, despite inflation surprising on the upside last month and bond yields hitting a three-year high. The monetary authority will probably only re-assess its approach -- to keep financing conditions loose for now -- in December, when it will publish updated economic forecasts
Kazakhstan's central bank has a range of options besides changing its key interest rate as it looks to fine-tune monetary policy after markets stabilized and inflation came in below expectations, according to Governor Daniyar Akishev. With the benchmark held twice at 9 percent after four cuts and anticipation building that a hike is on the way, Akishev said just before a policy meeting on Monday that "the central bank has more maneuvers than just moving the rate."
Argentina will release CPI figures Wednesday, and most economists expect to see an acceleration in price increases. The peso was among the top emerging-market performers last week, but its year-to-date slide is still pushing up the cost of imported goods
Poland, fresh from an S&P Global ratings upgrade, will publish final September inflation numbers and the current-account balance for August on Monday. That will be followed by September wages and employment data as well as the core CPI print on Tuesday. Industrial output and PPI come on Wednesday, with retail sales closing the week. Local elections will be held on Sunday and investors will watch for the final read-out on how the ruling conservatives fare, especially among the larger cities
Indonesia reported its trade balance for September swung into a surplus of $227 million from a revised deficit of $944 million the previous month. India is also due to report its trade figures on Monday while its data on wholesale-price inflation showed an acceleration to 5.13 percent
Remittances of overseas Filipino workers, a key source of foreign exchange, fell 0.9 percent in August from a year earlier following a 5.2 percent increase in July, according to data from the Philippines on Monday. The Southeast Asian nation is also due to release balance of payments on Friday