Yuan Dives Through Key Levels as Traders Price in a Tariff Hike
(Bloomberg) -- Flaring trade tensions fueled a dive in China's currency as investors began to price in that the U.S. will act on a threat to escalate tariffs on the Asian nation, and as questions swirled about how China might respond.
The offshore yuan slumped 0.8% against the dollar after U.S. President Donald Trump said at a rally on Wednesday night that Chinese leaders "broke the deal" he was negotiating with them on trade. The Chinese currency busted through its 200-day-moving average en route to about 6.86 per dollar, its weakest level since January. Senior Chinese officials were set to arrive in Washington Thursday as traders debated whether China might use market instruments -- like yuan depreciation or its hoard of Treasuries -- to retaliate.
The yuan's rapid descent shows that traders are preparing for the possibility that the U.S. will raise duties on $200 billion of Chinese imports on Friday, to 25 percent from 10 percent, according to Jefferies LLC. Options markets suggested traders were bracing for that -- three-month dollar-offshore yuan risk-reversals rose to the highest level since November, reflecting demand for wagers against the yuan.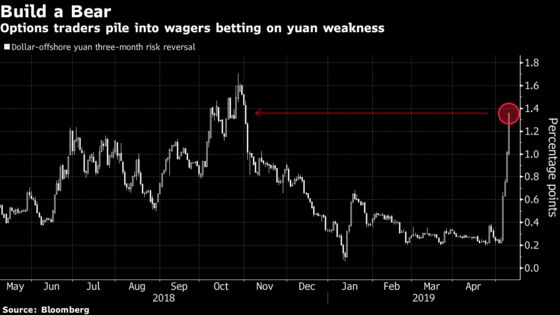 "If a tariff hike goes into effect, the market expects USD/CNH to rise to 7," said Brad Bechtel, global head of foreign exchange at Jefferies. "The fact that we are already moving is the market anticipating a tariff hike."
Here's what money managers and analysts had to say about the yuan:
Tao Wang, UBS chief China economist and head of Asia economic research:

UBS expects USD/CNH to weaken toward 7.0 key level if 25% levy on $200 billion Chinese goods comes into effect
Pair may go as high as 7.2 if a 25% tariff is imposed on all imports from China

Tony Hann, a money manager at Blackfriars Asset Management Ltd. in London:

"I think the Chinese authorities will be happy to see the yuan weaker, but will continue to manage against a basket. They will want to avoid accusations of 'currency manipulation.' Accusations would heighten tension -- Trump is already on record accusing them of this."

Ray Jian, London-based portfolio manager and head of emerging-markets aggregate debt at Amundi Asset Management:

" I don't think it will be a weapon, but on the other side, the government will not defend it unnecessarily.
"My base case is there will be tariff escalation on Friday, so looks like we're going to have a rough ride."
"If tariff escalation happens, the yuan will come under pressure naturally, and I don't think the government will spend a significant amount of money to defend this natural downward movement."

Piotr Matys, a London-based analyst at Rabobank:

"It is worth noting that USD/CNH is one of the best barometers for market concerns about trade tensions."
"A further move higher in USD/CNH would help USD/CNY to break above 6.83 level with 6.87 as next target. Should such a scenario unfold, other USD/EM crosses are likely to follow USD/CNY & USD/CNH higher, especially USD/Asia."