Your Guide to Five Central Bank Decisions Before Draghi Speaks
(Bloomberg) -- By the time Mario Draghi declares an end to 2.6 trillion euros ($3 trillion) of stimulus on Thursday, his central bank and four others nearby will have delivered their own final decisions of 2018 in a volley of announcements almost every hour.
Starting with the world's lowest interest rate from the Swiss National Bank, and then later, the region's two highest central bank benchmarks in Ukraine and Turkey, officials setting the cost of borrowing are likely to focus on the shape of policy in 2019 against a backdrop of shaky global growth. That's likely to be a focus of questions to the European Central Bank president too.
Political risks may dominate that outlook, including any fallout from Western European restlessness caused by Brexit, Italy's populists and France's rioters, to international trade tensions and in the case of Ukraine, national elections and military anxiety.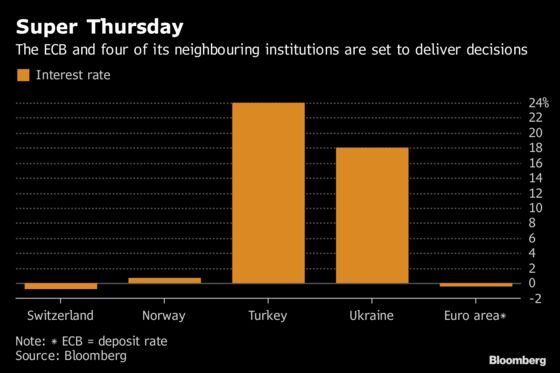 9:30 a.m. in Bern (8:30 a.m. U.K. time)
-0.75% deposit rate
Press conference at 10 a.m.
The SNB is expected to keep rates unchanged at rock bottom and reiterate its currency intervention pledge, given the franc's recent rally against the euro and signs of flagging growth across major economies. Risks such as Italian politics and Brexit are likely to keep up investor appetite for the Swiss currency in coming months, warranting a cautious stance. The SNB will also give an update on its economic forecasts and financial stability, and will probably once again stress risks in the residential property market.
10 a.m. in Oslo (9 a.m. U.K. time)
0.75% deposit rate
Press conference at 10:30 a.m.
When Norway's central bank announces its latest interest-rate decision all eyes will be on its forward guidance. After tightening for the first time in seven years in September, the bank is expected to lower its rate outlook a bit in the face of an increasingly vulnerable global economy. Policy makers in Oslo have envisaged a gradual tightening of about two increases next year.
Read more: Norway Decision Guide: Watch for Changed View on Rate Outlook
2 p.m. in Ankara (11 a.m. U.K. time)
24% benchmark rate
No press conference scheduled
Turkey will hold rates for a second straight meeting, according to all 24 economists surveyed by Bloomberg. But with inflation still running so far above target, simply delivering on those expectations may not be enough for investors. Some are getting worried that as the economy begins to slow, policy makers are looking to ease policy sooner rather than later, and will be looking for the bank to maintain a hawkish tilt in its statement.
2 p.m. in Kiev (12 p.m. U.K. time)
18% interest rate
Press conference at 2 p.m.
Ukraine is poised to maintain one of Europe's highest benchmark interest rates as the central bank readies for two sets of potentially destabilizing elections in 2019. While oil prices are easing and the hryvnia has recovered from the recent tensions with Russia, populists are polling well and could threaten recently renewed international aid should they come to power. Compounding matters, increases in regulated utility prices are dragging inflation higher.
Read more: Ukraine to Keep Region's Highest Interest Rate as Elections Loom
1:45 p.m. in Frankfurt (12:45 p.m. U.K. time)
-0.4% deposit rate
Press conference at 2:30 p.m.
Draghi has all but promised to end quantitative easing this month, and the primary outcome of the ECB's decision should be to confirm that. His commentary and new forecasts may provide clues on whether a slowdown in the region's economic growth has been alarming enough to already derail an interest-rate increase penciled in for later next year. He is also likely to face questions on how the ECB plans to reinvest maturing bonds acquired as part of his central bank's four-year stimulus spree.