Young Workers Are Drifting Away From London as Jobs Dry Up
(Bloomberg) -- Discover what's driving the global economy and what it means for policy makers, businesses, investors and you with The New Economy Daily. Sign up here
An unheralded corner of London's property market is suggesting the capital has lost a big portion of its young professionals and lower-paid workers since the start of the pandemic.
Demand on SpareRoom, a website that pairs up people seeking house shares and rooms to rent, has plunged 23% since the start of 2020. In some neighborhoods, searches by potential tenants are down 40%. Demand has soared in northern and coastal areas.
The figures add to anecdotal evidence of people moving out of London after lockdowns closed restaurants, bars and hotels that have a high portion of people on lower wages. Many of those workers along with young professionals departed the rooms where they lived to stay with family or to find cheaper accommodation outside of town. Some left the country.
"The labor market isn't moving," said Matt Hutchinson, communications director at SpareRoom. "London is a suitcase and a dream city. People turn up for a new life, a new career, a way of starting the next chapter. Those opportunities aren't massively available at the moment, and a lot of the industries London is focused around, like entertainment and hospitality, aren't currently there."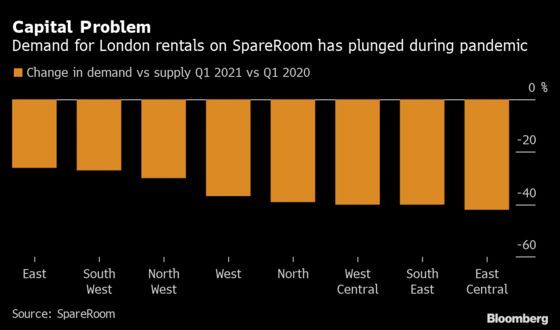 Those trends help explain why rents have been falling for whole homes in London, one of the elements that may hold back the capital from enjoying the economic recovery that's now starting in the rest of the U.K. Slack demand for rooms in London also may indicate a Brexit impact, with Britain's departure from the European Union throwing up immigration hurdles that make it more difficult for those from the continent to work in the U.K.
The data from SpareRoom compares the first quarter of 2021 with the equivalent period in 2020. It shows that demand relative to supply plunged over the past year. Out of the U.K.'s 50 biggest towns and cities, London saw the largest drop. The east, central, southeast and west central areas leading gains.
Rents in London fell 8% on average in the year, with Westminster leading the way with a 25% drop. Leafier areas further out, such as Winchmore Hill and Totteridge, were among the few to eek out gains.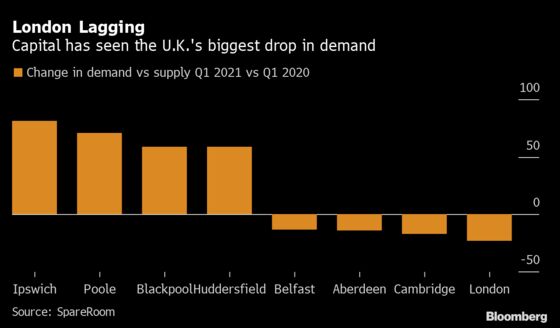 That picture is consistent with a large shift in labor market dynamics in the capital. Shorter-term work in hospitality has dried up, and office workers have been able to operate mainly from home, which for many is far from the center of the city.
Herdwork, a company that offers office space in the Lake District, says it has seen a surge in inquiries this month.
"We've just got a new member, a relatively young tech guy, who has just moved back to the Lake District," said Zoe Spence, the co-founder of Herdwork. "He's thought, 'I can work remotely. I don't have to be in London.'"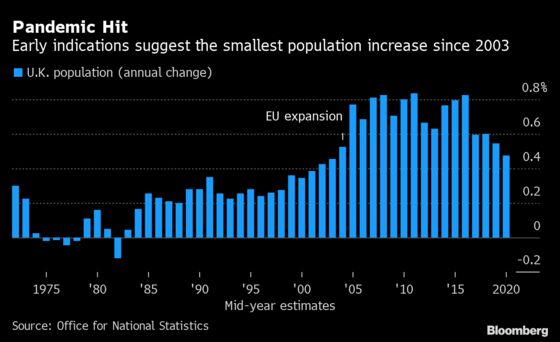 One of the big questions for the economy is whether those people who used to power London's economy will return once the economy reopens. Official statistics show the U.K. population grew at its slowest pace since 2003 in the year though the middle of last year -- and it may have fallen since then.
A survey of hospitality workers this month showed a third will not come back to the industry, even when it opens back up fully. That's despite half of workers unable to find jobs in other sectors.
In construction, which has stayed open for most of the past year, complications from Brexit may prevent overseas workers from coming back once restrictions lift. That would create a labor shortage in a booming industry.
"We're certainly seeing fewer people moving from elsewhere," said Hutchinson of SpareRoom. "If you talk to people in the construction trade they've never been busier. But finding people to work for them has been tricky because a lot of the European labor that was here before went home for lockdown and thought, 'Well with Brexit, is there any point in coming back?'"