Young Carefree Buyers in China's Small Cities Fuel Growth
(Bloomberg) -- Young consumers across China's smaller cities have emerged as a spending force and a bright spot for companies scouting for opportunities amid the broader consumption slowdown.
Compared to their counterparts in major cities, these small-town consumers have higher disposable incomes, cheaper costs of living, shorter commutes to work and more leisure hours, according to a new report by consultancy McKinsey & Co. Mostly between 18 and 34 years of age, this segment constitutes just one-fourth of the population but were responsible for 60% of the total spending growth in China last year, the report shows.
The findings spotlight the need for global companies to look beyond the metropolises of Beijing and Shanghai and invest in expanding their coverage of the Chinese hinterland. Tapping these lower-tier cities and towns will be key for firms looking to combat the slowest economic growth China has seen since 1992.
"This segment is relatively unaffected by the trade dispute," said Felix Poh, a Shanghai-based partner at McKinsey who co-authored the report. "Over the next two or three years, these young free spenders are likely the most important segment for consumer companies to focus on."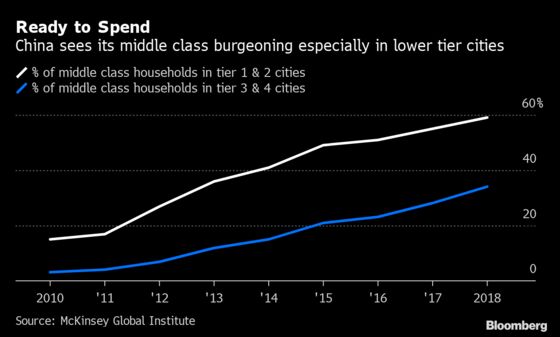 These buyers from smaller towns such as Mianyang, Yancheng and Zigong are the exception to broader findings of growing caution and anxiety among Chinese spenders at large, showed the report. It surveyed 5,400 respondents across 44 Chinese cities between May and July this year.
Almost 60% respondents said they weren't keen to spend "rashly," even when they "felt rich," up from 52% in 2017. Cost of living surged 65% between 2012 and 2018 while income growth has cooled down, the report said.
Other Key Trends
Most consumers are health-conscious and prefer products with natural ingredients
They prefer high-end, self-guided excursions over package tours
Rising appeal of local brands as consumers turn more patriotic
Companies will need to rejig and customize their strategies, which were mostly designed for bigger cities, to reach this group, said Poh. Special focus on distribution channels and engagement on social media platforms, he said.
"Multinational companies need to find the right balance between empowering the local team and ensuring some minimum standards for global consistency," Poh said. "They have to realize that what perhaps has served them well in the higher-tier cities may not necessarily work in the lower-tier cities."