Young Britons Once Targeted by Cameron Find Jobs, Training
(Bloomberg) -- In the run-up to the 2015 general election, then Prime Minister David Cameron vowed to make unemployed young Britons not enrolled in education or training carry out community service in return for receiving state benefits.
It was an attempt to win voters by taking a tough approach to welfare at a time when people everywhere were being asked to make sacrifices in the drive to reduce the budget deficit.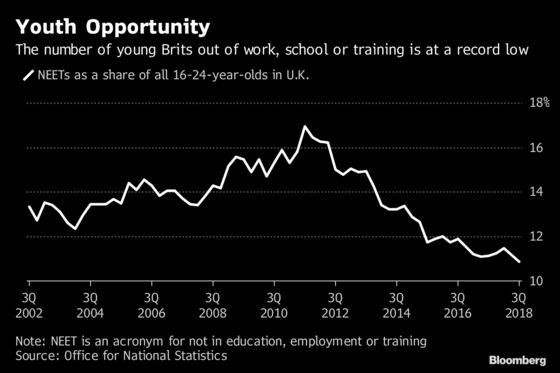 In late 2014, almost 1 million 16-to-24-year-olds were classified as so-called NEETs -- not in education, employment or training. Now, according to figures published Thursday, the number has dropped to 760,000, the lowest since records began in 2001. They accounted for just 10.9 percent of their age group in the third quarter, compared with almost 17 percent seven years ago, the Office for National Statistics said.
The figures are a boost for Cameron's successor, Theresa May, at a time of heightened economic uncertainty as Britain prepares to leave the European Union. There are warnings of a chaotic departure in March if Parliament rejects the deal being finalized between Britain and the remaining 27 member states.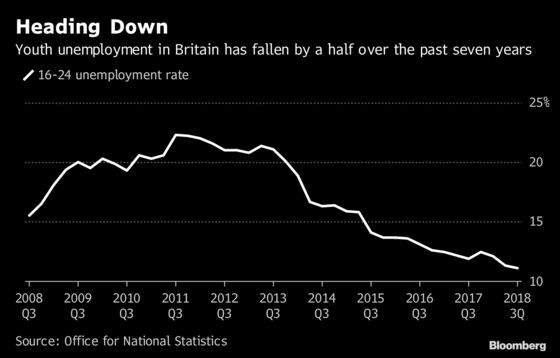 Possible explanations for the decline include continuing cuts to welfare, a buoyant labor market -- employment is at record levels -- and a government initiative to create millions of new apprenticeships. Overall youth unemployment has fallen sharply in recent years and stood at 11 percent in the third quarter.