French Economy Hammered by Yellow Vest Protests as Output Falls
(Bloomberg) -- France's economy is taking a significant hit from the violent disruption of the Yellow Vests protests, raising the stakes for Emmanuel Macron's bet that slashing taxes will calm the storm.
The country's private-sector contracted in December for the first time under Macron's watch, according to a Purchasing Managers' Index for manufacturing and services. The gloomy indicator, which dropped the most since 2011, followed the Bank of France cutting its growth forecasts for this year and next and warning that protests are depressing output in a multitude of sectors.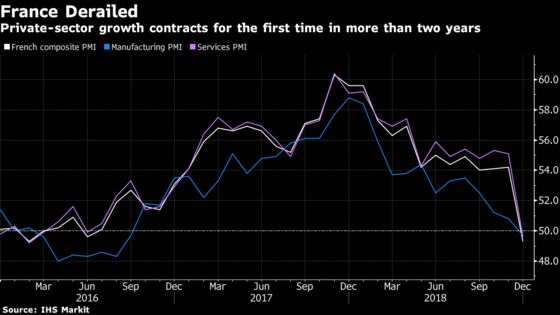 The weak indicators in France Friday sent the euro on a downward path and the single currency fell further when other measures for Germany and the whole currency bloc came out. It was down 0.58 percent at $1.13 as of 10:37 a.m. Frankfurt time.
Macron is scrambling to limit the damage to the economy and placate the protesters, whose demands range from lower taxes and higher wages to better public services, and even the resignation of their president. On Monday, the French leader announced a package of measures to boost the minimum wage, scrap taxes on overtime and raise pensions.
"Forty years of malaise are surfacing," Macron said in an address to the nation. "We probably didn't manage to find a sufficiently fast and strong response in the last year and a half."
The proposed wage increases and tax cuts are upending Macron's plans to reduce the deficit, but there's little evidence his plans are having an effect on protesters' determination. Political risk is at its highest level since the month after Macron defeated Marine Le Pen in last year's election, according to GeoQuant, a political-risk analytics firm.
Bank of France Governor Francois Villeroy de Galhau tried to strike a positive note Friday, saying the outlook for the French economy is still "quite favorable" in 2019 if the protests calm. Macron's plans to cut taxes for low earners could also boost growth further than expected, Villeroy said.
France's PMI for December showed new orders fell, employment growth decelerated and confidence dropped to a three-year low. A similar gauge for Germany also declined.
While the French economy was set to record "a fairly reasonable" quarterly expansion, the Yellow Vests protests have changed the outlook, said Eliot Kerr, an economist at IHS Markit. A downturn in manufacturing gathered momentum and a contraction in services "presents significant downside risks to fourth-quarter growth prospects," he said.
The PMI for Germany edged lower in December as forward-looking components deteriorated. Growth in new orders came close to a halt and business confidence softened further.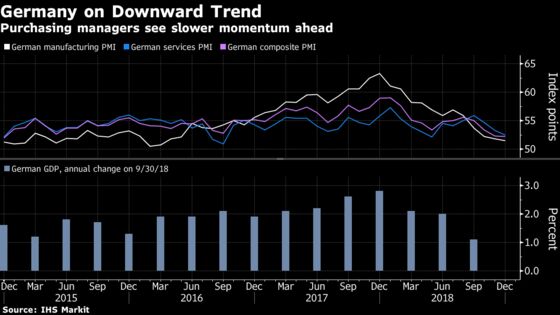 "It's a stark contrast from the situation this time last year," IHS Markit said in a separate statement. "Reports of an economy close to overheating have been supplanted by concerns about an increasingly uncertain political backdrop, trade wars and a struggling autos industry."
A gauge for the euro area also fell, while economists were expecting a slight improvement in December.