Yellow Vest Protests Put a Dent in French Economic Growth
(Bloomberg) -- The Yellow Vests protests in France have crushed hopes of the economy sustaining its recent momentum.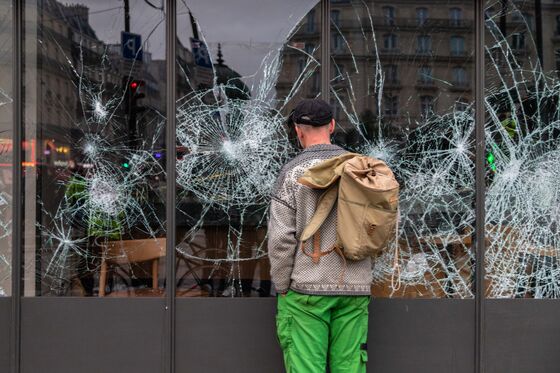 Growth will slow by half this quarter, partly because of the impact of the protests on industrial production and services activity, according to the Bank of France's business sentiment report. Only a month ago, the central bank forecast a repeat of the 0.4 percent pace recorded in the third quarter.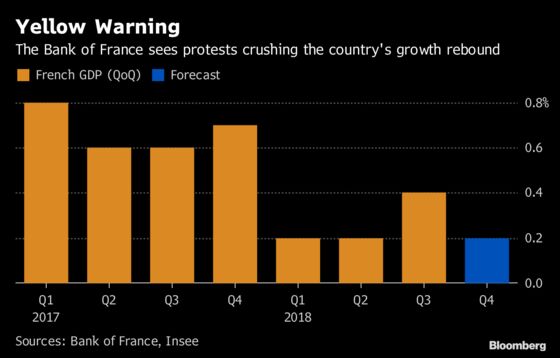 The survey is the most comprehensive measure yet of the economic impact of the protests, as it polled 8,000 businesses between Nov. 28 and Dec. 5.
A slowdown will be another a blow to Emmanuel Macron, and will put further pressure on public finances. Macron this month bowed to public pressure to abandon a fuel-tax increase that sparked the Yellow Vests movement.
Economic activity may rebound if the protests subside in the near future, but some of the most impacted sectors -- agriculture, restaurants and hotels -- won't catch up lost business.
Despite cutting its growth estimate, the Bank of France reported little change in its business climate indicators. The industry reading fell one point to 101 in November and the services and construction indicators were stable.
French Finance Minister Bruno Le Maire has said the Yellow Vests are a "catastrophe" for business and retailers warned of over 1 billion euros ($1.1 billion) in lost revenue, even before the most recent protests on Dec. 8. On Monday, he said they'll knock about 0.1 percentage points off growth this quarter.
The sudden slowdown is another warning sign for the European Central Bank when it meets Thursday to discuss new economic projections and how it will begin to withdraw stimulus.