Yellen Says Trump's Criticism of Fed Policy Is Damaging and Unwise
(Bloomberg) -- Janet Yellen cautioned that Donald Trump's criticism of Federal Reserve policy threatens the institution she ran for four years, adding that it's "not a desirable thing for a president to comment so explicitly on Fed policy."
"To politicize it and to undermine that is something that is essentially damaging to the Fed and to financial stability," Yellen, who stepped down as Fed chair early this year, said Monday in Washington. "Obviously, presidents can speak out if they choose to and give their opinions about policy. There's no law against that, but I don't think it's wise."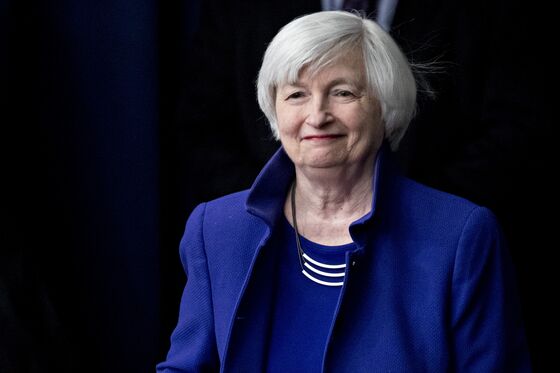 Yellen spoke at a banking forum just days after the president repeatedly complained that the Fed was hurting financial markets and threatening economic growth by raising interest rates too quickly. Yellen defended her successor, Jerome Powell, while saying the U.S. central bank is independent and apolitical.
"I don't believe that President Trump's comments will change what the Fed is doing," she said.
The former Fed chair's comments add to a chorus of voices who say it's unusual and even perhaps dangerous for a president to openly criticize central bank policy, which is charged by Congress with focusing on delivering maximum sustainable employment and stable prices. Some economists, including Stanford University professor John Taylor, defended Trump and said he was merely participating in an ongoing discussion.
Yellen also weighed in on the current outlook, saying that 3 percent U.S. economic growth is "terrific," but will be hard to sustain without measures that lift the country's long-term potential growth. She also said the central bank should be raising rates to a level that neither stokes nor constrains the economy.
"What it needs to do is move to a neutral position where the labor market will stabilize," she told the annual convention of the Mortgage Bankers Association.
The Fed raised rates to a target range of 2 percent to 2.25 percent last month and forecast rates would be 3.1 percent by the end of next year, according to updated projections, which would be slightly above their median estimate of the neutral rate.
While there's no sign of inflationary pressures so far, a continuing decline in the level of unemployment below the already-low 3.7 percent it touched in September means officials do have to worry about price gains accelerating.
"I am worried about the economy overheating," she said. "Growth needs to slow to stop the unemployment rate from falling ever further, which I believe will eventually create inflationary pressures."