Yellen Praises Powell's Response to Fed Trading Controversy
Treasury Secretary Janet Yellen said she believes Federal Reserve Chair Jerome Powell has taken "significant action" in the wake of revelations over the personal investments of U.S. central-bank policy makers.
"He's certainly responded and put in place a far more strict set of requirements," she said in an interview with Bloomberg News Sunday.
Powell announced last month that the Fed would ban top officials from buying individual stocks and bonds, as well as limit active trading. That followed the resignations of Dallas Fed President Robert Kaplan and Boston's Eric Rosengren in the aftermath of reports on their financial trading activity during 2020. Rosengren cited a chronic illness in announcing his early retirement.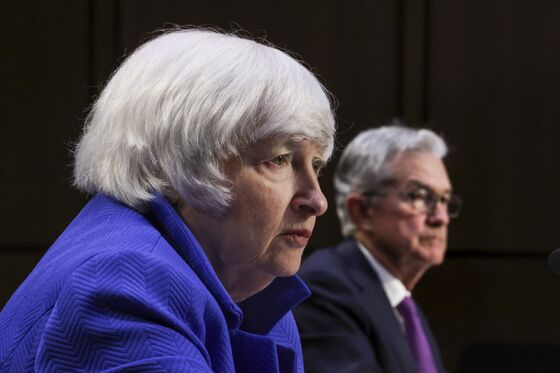 The controversy has complicated Powell's chances of being reappointed to another four years helming the Fed, with some Democratic lawmakers raising questions about oversight. Powell had already faced criticism from senators including progressive Elizabeth Warren of Massachusetts over his record of relaxing some financial regulations during his tenure.
Bloomberg reported in August that Yellen, who led the Fed from 2014 to 2018 and was succeeded by Powell, had told senior White House advisers that she supports reappointing Powell, according to people familiar with the matter.
Yellen's comments on the Fed's new trading rules come a week after she spoke in defense of Powell's record on financial regulation. She said on CNN's "State of the Union" Oct. 26 that financial rules had "markedly strengthened" under Powell's term, as they did during her time at the Fed and under her predecessor, Ben Bernanke. 
Powell's term is up in early February, and there's no indication when President Joe Biden will make his announcement on whether he's reappointing the incumbent or opting for a new Fed chair.