Yellen Leads Chorus of Concern Over Risks Facing Global Economy
(Bloomberg) -- The world economy faces risks ranging from surging non-financial corporate debt to U.S. fights with creditors and the potential for a new global dividing line.
Those concerns dominated the second day of the Bloomberg New Economy Forum in Singapore on Wednesday, where former Federal Reserve Chair Janet Yellen warned the U.S. might struggle to cope with lending risks that have spread beyond banks.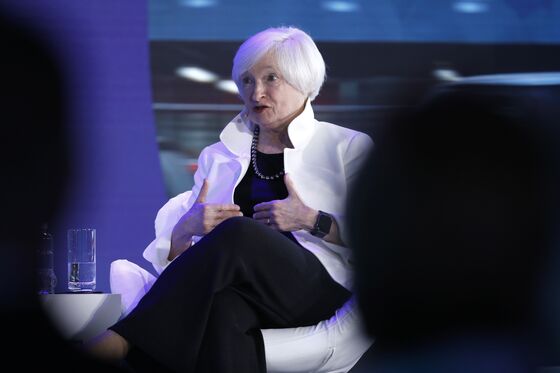 Larry Fink, chairman of BlackRock Inc., questioned the wisdom of the U.S.'s fights with lenders who fund 40 percent of its budget deficit. And in the starkest warning of the day, former Treasury Secretary Hank Paulson said an "economic iron curtain" could emerge as the U.S. and China throw up trade walls.
"Washington now strikes many people as attempting to disrupt all aspects of China's external economic relationships," Paulson said at the opening of the event, which is being organized by Bloomberg Media Group, a division of Bloomberg LP, the parent company of Bloomberg News. "This risks setting Washington up for a new round of battles with its allies and partners -- the very partners it needs to help alter Chinese behavior."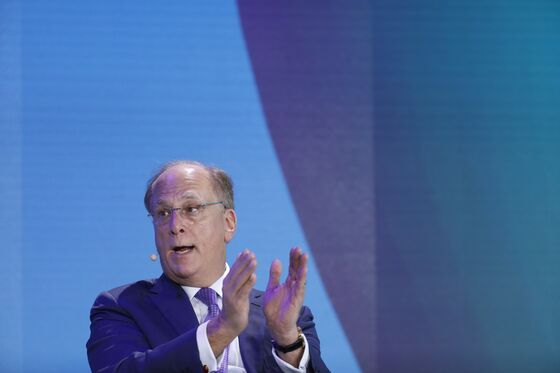 The U.S.-China economic confrontation was a recurring theme on the first day of the NEF as well. Henry Kissinger -- who helped broker the U.S.'s 1970s rapprochement with China -- said Tuesday he was "fairly optimistic" a wider clash could be avoided, but warned that failure would "destroy hope for world order."
Fink on Wednesday honed in on the contradiction of the U.S. battling against those who help finance its government -- and worried a forecast $1.3 trillion budget deficit is premised on the economy expanding at 3 percent. That shortfall could blow out further in the event the U.S. or world economies slip and push borrowing costs higher.
"Investors are going to demand a bigger premium and we have greater risk for higher rates and that will not allow the equity markets to flourish," Fink said in a panel discussion at the forum. "And that could be the real issue related to everything, where we have interest rates becoming too high to sustain the economy with its growth rates."
Gary Cohn, formerly President Donald Trump's top economic adviser who joined Fink on the panel, said he doesn't see a quick resolution to U.S.-China trade tensions after congressional elections. Asked if he could give any insight on why Trump is focused on trade deficits, the former Goldman Sachs Group Inc. president responded: "No." He added that Trump had found "one economist on Amazon who thinks trade deficits matter, and he listens to him."
Earlier, Yellen warned the U.S. might not be able to manage risks from migrating debt.
"We are more attentive to the emergence of risks outside the banking sector, but it's unclear that we actually, at least in the United States, have appropriate tools to deal with these," she said. The authority of U.S. banking regulators to deal with risky debt is limited, she added.
Yellen was joined on a panel by Ravi Menon, managing director of the Monetary Authority of Singapore. He noted that loose liquidity and expansionary policy in developed economies had led to a build-up of debt in emerging markets. In ramping up their dollar borrowing, such economies become exposed to a strengthening greenback and rising interest rates.
Read more on the New Economy Forum
Menon set out some ideas for managing spillover effects of global policy moves: regulatory coordination; monetary policy guided by domestic mandates but recognizing effects on other countries; and a global financial safety net.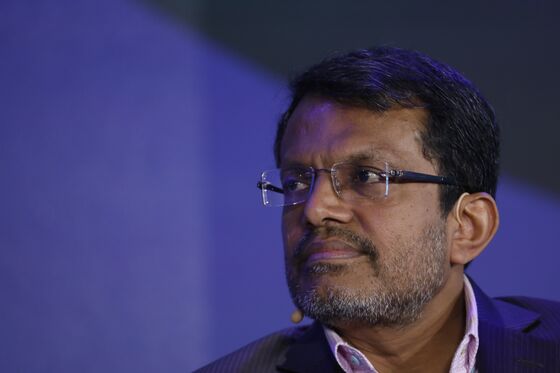 "If you have global capital markets, you need some form of global financial safety net -- that is sorely lacking today," Menon said. He called for a mechanism to prepare for a global dollar shortage, similar to the Fed's dollar swap lines during the 2008-09 crisis.
Yellen said the International Monetary Fund was the "logical" entity to take the role of lending to those who need liquidity. While the Fed can do it in crisis, she said, it's hard to make the case outside of those circumstances.
The third member of the panel was Sri Mulyani Indrawati, Indonesia's finance minister, whose economy has shown solid growth, low debt, modest current-account deficits and restrained inflation. Yet its currency has tumbled more than 8 percent against the dollar this year and the central bank has been forced to repeatedly raise interest rates as the Fed tightened policy.
Indrawati made the point that the Fed needs to pay attention to the knock-on effects of its policies. Yellen had struggled with this criticism when she was at the helm and current chair Jerome Powell is now receiving it -- despite both insisting they keep international risks in mind.
The problem, as Yellen pointed out, is the Fed is congressionally mandated to put America first.