Xi Warms to Abe as Trade System Burns: World Economy This Week
The dramatic themes persisted in the global economy this week amid fresh market crumbling, with the usual suspects battling over trade and central banks showing divergent approaches to a policy tightening cycle threatened by looming growth risks.
Here's our weekly wrap of what's going on in the world economy.
The good cop, bad cop game continues on the U.S. side of the U.S.-China conflict, with Treasury Secretary Mnuchin playing up openness on how the U.S. judges currency manipulation while White House economist Larry Kudlow blamed China for a lack of engagement ahead of a planned Trump-Xi meeting, which already had low expectations. The heat from America is giving President Xi Jinping a convenient punching bag for China's slowing economy, which has been unable to super-charge infrastructure growth and is dealing with anxieties about the private sector. Donald Trump, on the other hand, was able to celebrate some more sparkling GDP figures this week, even if trade and factory orders data sour. The tensions are bringing old foes China and Japan closer together. U.S. companies are ready to move resources out of China if things get too pricey. And over in Europe, growth is slowing and sentiment still souring, while U.S.-European Union trade talks are becoming more fiery.
Bank of Canada officials raised the benchmark interest rate and noted that they plan to totally wipe monetary stimulus from the economy. Bank Indonesia, Sweden's Riksbank and Norges Bank held their policy stances this week while each signaled that more tightening could be in the offing soon. Turkey's central bank pledged further rate increases should the last hike fail to curb inflation. China's central bankers might be planning a 10-billion-yuan effort to boost private bond sales as Beijing markets suffer, while the Bank of Japan said bank lending remains healthy even amid its record monetary easing program. The European Central Bank is mulling how it'll set rates in the future, but kept policy unchanged for now. Trump has sharpened his ire toward the Federal Reserve, and here's a handy timeline of those barbs. Former Fed Chairman Paul Volcker knows a thing or two about feeling that pressure from the White House.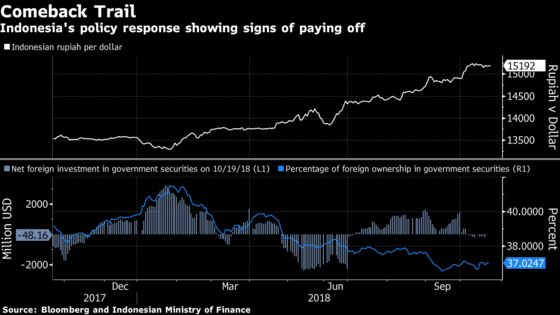 COLOMBIA INSIGHT: Central Bank Plan to Boost Reserves Hits Peso
Pricier Carbonara May Serve Up Another Surprise Russia Rate Hike
Italy drew an unprecedented rebuke of its budget from the EU for breaching spending targets and ECB President Mario Draghi told the country to calm down and avoid policies that will push up borrowing costs. Prime Minister Giuseppe Conte ruled out a ' Plan B,' while rising yields on sovereign debt are starting to nudge up borrowing costs for households and companies – but just barely. Elsewhere in Europe, the Brexit saga goes on, with thousands taking to the streets in London to call for a fresh vote, Theresa May surviving Tory party unrest yet again and  the French government telling companies to begin preparing for all Brexit scenarios.
Spain Tells EU Its Budget Plan Is Prudent, Will Reduce Deficit
Oil Decoupling Creates Stress Test for Imperiled Russian Economy
Argentina Finds the Silver Lining of Its Nightmarish Peso Plunge