Xi Takes China's Summit Style Abroad With Sea of Red Polo Shirts
(Bloomberg) -- China has a distinct style for international summits: Meticulous preparation, careful scripting, and a hefty security presence.
As President Xi Jinping flew to Argentina for the Group of 20 summit, that approach was visible on the streets of Buenos Aires.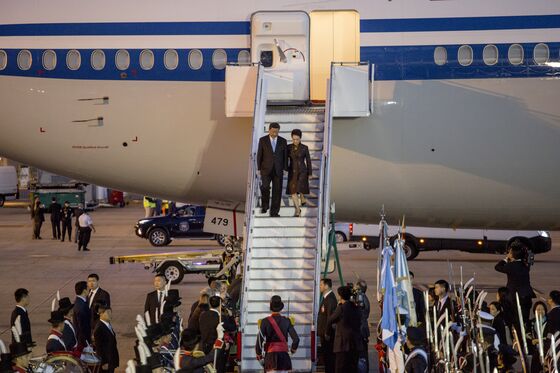 More than six hours before Xi was scheduled to arrive, volunteer airport greeters -- and those lining the route to his hotel -- donned identical red polo shirts in the city's Chinatown area. They'd been organized by the Chinese Embassy, said a souvenir shop owner who gave her family name as Ling.
These types of patriotic displays, long the norm in Beijing, are becoming more prominent overseas as Xi spreads China's cash around the world with his signature Belt and Road Initiative. The Chinese leader is keen to project power ahead of a landmark meeting with U.S. President Donald Trump on Saturday, particularly as China's economy slows, its stock market struggles and trade tensions threaten to devolve into a new Cold War.
A visible Chinese presence hasn't always helped Xi's cause, however. At the Asia-Pacific Economic Cooperation summit in Papua New Guinea this month, boulevards lined with red flags only seemed to reinforce concerns among smaller economies wary of becoming beholden to Beijing.
In Buenos Aires ahead of the G-20, the mood was cheery. Outside the Chinese Embassy, some 900 volunteers handed out identical Chinese and Argentinian flags from cardboard boxes. Balding men struggled to piece together long red banners declaring "Welcome President Xi." People wandered up and down looking for which one of the 20 assembled buses to board. 
"It's the first time I've done something like this. I don't really know what I'm doing but it's fun," said Liu, a 25-year-old employee at a Chinese state-owned energy company who was asked by his boss to help the embassy organize the volunteers. "No one listens to anything I say," said Liu, who did not give his full name. "It's not easy to do this."
The volunteers were organized through local Chinese chambers of commerce at the embassy's request. Zhou Yongyong, vice president of the Overseas Chinese Industry Association of Argentina, said his chamber and others were representing businessmen from the coastal provinces of Fujian and Zhejiang, and the import-export industry. 
Zhou said he had high hopes for the summit. "We all really like President Xi," he said, adding he sourced his news on developments in China mainly from domestic Chinese news outlets. "Of course there are limits to what we know, but based on the news I've read it seems like China is developing very quickly." 
A chatty bespectacled man who has lived in Argentina for 10 years, Zhou hoped Xi would come bearing gifts for overseas Chinese. "The economy is bad here," he said. "It would be good if he could make it easier to change renminbi into Argentine pesos. Then we wouldn't have to worry about the dollar so much." He was scheduled to cheer outside Xi's hotel. 
Pre-planned spontaneity is a staple of Chinese diplomacy. Before the Belt and Road Forum held in Beijing last year, the People's Armed Police and granny volunteers with red armbands worked in tandem to make Beijing look neat and tidy. As with past extravaganzas like the 2008 Olympics and 2015 China Victory Day Parade, China left nothing to chance.
It's a practice that dates back decades. During Richard Nixon's historic 1972 visit to China, Shanghai residents were literally told not to wash their dirty laundry in public, according to the memoir of former Chinese diplomat Zhang Hanzhi. U.S. journalists on the same visit noticed that pedestrians walking outside their hotels passed by on a loop, like something from the movie "The Truman Show."
"Last night, there was a traffic jam and the drivers were all cursing the Argentinian president," said Zhuang, a 32-year-old who moved to Buenos Aires as a teenager. "That could never happen in China. The whole city would be in lock down and no one could do anything. That's China."
For some volunteers, Xi's visit is a true moment of pride.
"We can feel their respect for us growing," said a businessman from Fujian who has lived in Argentina for six years and gave his name as Yao, referring to locals in Buenos Aires. "I feel proud -- all of us do. Our country is strong now."