WTO Cuts Global Trade Forecast In Warning On Risks To Growth
(Bloomberg) -- The World Trade Organization cut the outlook for global commerce through 2019 and warned that tension between major trading partners increasingly threatens economic growth.
World merchandise trade growth will slow to 3.9 percent this year and 3.7 percent next year, compared with 4.7 percent in 2017, the WTO said in a revised forecast published Thursday. In April, the WTO said trade would grow by 4.4 percent in 2018 and to 4 percent in 2019.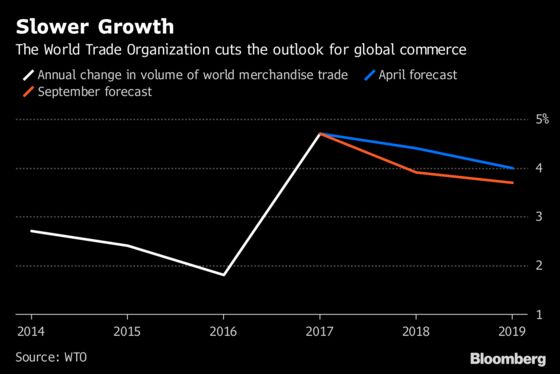 "Rising trade tensions pose the biggest risk to the forecast, but monetary policy tightening and associated financial volatility could also destabilize trade and output," WTO Director-General Roberto Azevedo said in statement in Geneva. "More than ever, it is critical for governments to work through their differences and show restraint."
The global trade body's assessment is an indicator of the stakes involved in the escalating U.S.-Chinese trade ear. This week, the U.S. imposed additional tariffs on $200 billion worth of Chinese imports and China responded with tariffs on $60 billion worth of U.S. goods.
A full-blown global trade war "would knock around 17 percent off global trade growth, and 1.9 percent off GDP growth," Azevedo said in a speech in Berlin on Sept. 25.