WTO Chief Pursues a 'Hectic' Agenda to Fix World Trade's Referee
The head of the World Trade Organization raised an alarm about the credibility of the multilateral trading system, urging leaders to act fast to bolster the global economy with steps like fairer vaccine distribution and cooperate to resolve longer-term problems like overfishing.
During her first two months, WTO Director-General Ngozi Okonjo-Iweala has met with trade ministers around the globe to communicate a message that the WTO is important, it needs to be reformed and it needs to deliver results.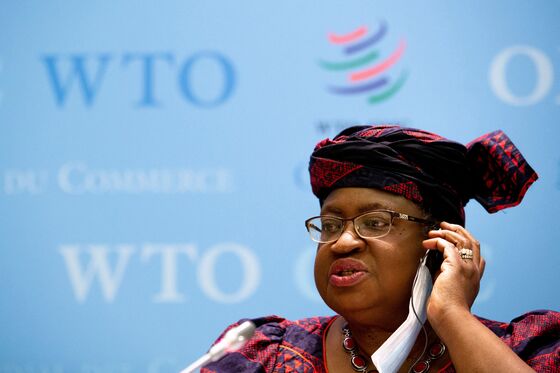 So far, she says the reception from world leaders has been positive, but quickly translating that goodwill into substantive outcomes during a global pandemic is just as daunting as she anticipated.
"The word I would use to describe it is absolutely hectic," Okonjo-Iweala said in a phone interview on Tuesday when asked about her first few months in the job. "The challenges we thought were there are there and getting an agreement is not as easy because of longstanding ways of negotiating business positions."
Countries need to move past the notion that one country's gain in international commerce is another's loss, she said.
"We need to break out of the zero-sum deadlock," Okonjo-Iweala said. "We need to remind the countries and members that the WTO is here to deliver for people. We can't take 20 years to negotiate something."
Okonjo-Iweala said her top priority is to use trade to alleviate the pandemic and said her recent meeting with trade ministers and vaccine manufacturers provided a positive step in the right direction.
"That meeting yielded quite a lot," she said. "I see more pragmatism on both sides."
An important component of the WTO's trade and health agenda is a proposal from India and South Africa that seeks to temporarily waive enforcement of the WTO's rules governing intellectual property for vaccines and other essential medical products.
As of this week there are fresh signals that the Biden administration, which currently opposes a waiver to the WTO agreement on Trade-Related Aspects of Intellectual Property Rights, wants vaccine manufacturers like Pfizer Inc. and AstraZeneca Plc to help ramp up U.S. pandemic assistance to the rest of the world.
"There is movement," Okonjo-Iweala said. "Are we there yet? No, but there is a little bit of change in the air among members. I think hopefully we will be able to come to some sort of a framework for the WTO ministers to bless."
"We don't have time," she added. "People are dying."
Okonjo-Iweala said this month's vaccine meeting also revealed areas where the developing world can increase its capacity to produce more doses rather than waiting for rich countries to send them their excess supplies.
She said various emerging markets such as India, Pakistan, Bangladesh, Senegal, Indonesia and Egypt already have some capacity to begin producing vaccines for people living in developing economies.
"The idea that there is not additional capacity that can be refurbished and turned around in developing countries is not the case," she said. "Some of them look like it can be turned around quite quickly for additional capacity. Others will take a little bit more investment."
Another priority is concluding an agreement to curb harmful and illegal fishery subsidies -- something she hopes to achieve well in advance of the WTO's end-of-year ministerial meeting in Geneva.
Last week she told WTO members that she will hold a virtual ministerial meeting in July to try to produce a final fisheries text so that ministers won't have to negotiate via teleconference if the pandemic prevents the WTO from holding an in-person ministerial meeting in November.
"Negotiating by Zoom is very difficult," Okonjo-Iweala said. "That's why we need to conclude three or four things to deliver before the ministerial."