World Trade Wobbles as Trump Tariffs Impede Global Momentum
(Bloomberg) -- Global trade volumes fell for a second month in March, as President Donald Trump moved forward on threats to slap protective tariffs on imports.
The decline of 1.2 percent followed a downwardly revised 0.7 percent drop in February, the Dutch Bureau for Economic Policy Analysis said Friday. While the number can be volatile, it marks the first back-to-back fall in four years.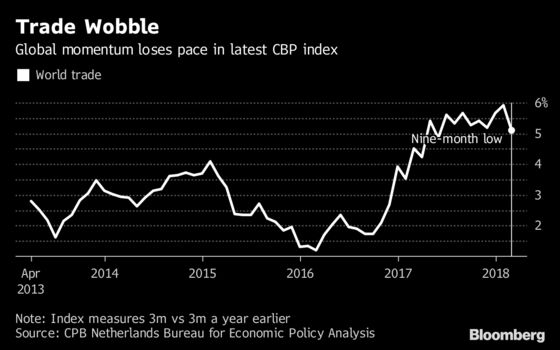 The latest data highlights concerns cited by the International Monetary Fund that trade threats are clouding the bright world growth outlook. IMF Managing Director Christine Lagarde said in a speech in St. Petersburg on Friday that the "darkest" cloud on the economic horizon is the determination of some nations to "rock the system" over trade.
On a three-month basis, there were also signs of weakness. Compared with a year earlier, growth was 4.6 percent, down from 5.4 percent and the weakest in nine months.
In March, the Trump administration imposed duties on imported steel and aluminum, while giving temporary exclusions to some allies, and it announced plans to add levies on at least $50 billion of Chinese imports to penalize the Asian nation for intellectual-property theft. While the two countries declared a trade truce last week, Trump stirred uncertainty on Wednesday by saying the U.S. may seek a new direction in the negotiations.