World Economy Troubles Run Deeper Than Tariffs
It's not all about tariffs.
Even with the focus on the G-7 summit, politicians are warily eyeing developments elsewhere in the world economy. Emerging markets have been shaken by currency meltdowns in Argentina and Turkey. Italy has raised the specter of a fresh debt crisis. Oil prices are at a three-year high.
The bottom line is that the best growth outlook since 2011 is coming under pressure on multiple fronts, a situation that could be exacerbated by a deepening trade spat. And politicians shouldn't look to central banks for help, according to Mohamed El-Erian, chief economic adviser to Allianz SE and a Bloomberg Opinion contributor.
If governments don't pursue policies that "unleash the considerable potential of the global economy, the surprises they've seen so far could risk being just the beginning of a truly global economic slowdown and more intense financial instability," he wrote in Businessweek.
G-7 leaders will discuss these issues and more at the summit starting tomorrow in Canada. Yet urgency is increasing for policy makers around the globe to enact measures that reduce inequality and put the world economy on a more stable footing.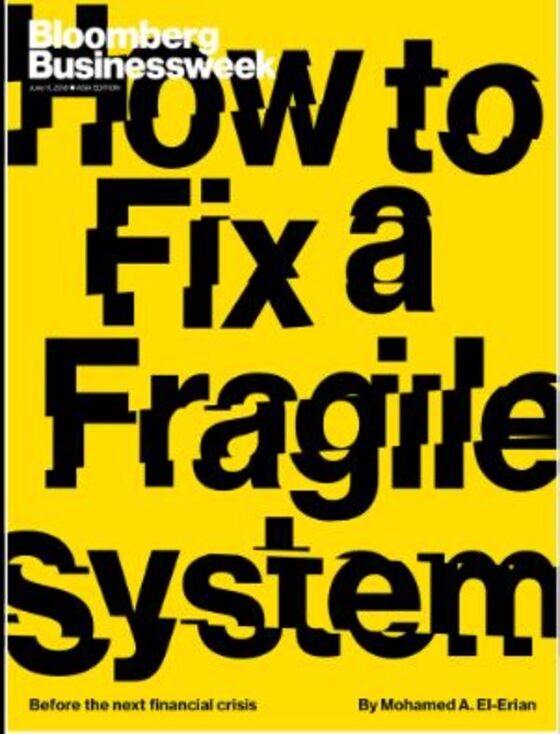 G-7 tensions | Trump may cut a lonely figure at the gathering of the world's wealthy nations club. From steel tariffs to Iran sanctions and climate change, the president will find himself isolated from other Group of Seven leaders. France has joined Germany in warning it won't sign a joint statement without major concessions, Helene Fouquet exclusively reports, in what will be their first opportunity to express frustration face-to-face after Trump imposed steel and aluminum tariffs last week.
Brexit showdown | Theresa May's war cabinet meets at lunchtime, with the prime minister facing a rebellion that could destabilize her government. Speculation is rampant that Brexit Secretary David Davis may quit over May's proposal to keep the U.K. tied to EU customs rules indefinitely after it leaves. She argues that's necessary to break a deadlock with the bloc, while he and other Brexit backers fear May is destroying their vision of Britain's independent future.
'Medical incidents' | The U.S. State Department has recalled some citizens stationed in China to probe an ailment that the agency compared with health issues previously detected among American diplomats in Cuba. The scare comes at a sensitive time between the world's two largest economies, which have clashed in recent days over everything from trade to territorial disputes in the South China Sea. China says its initial investigations into the matter were inconclusive.
Mozambique's jihadists | An upsurge in attacks by suspected Islamist militants in northern Mozambique poses a looming threat to a potential investment of $30 billion in gas projects by companies such as Eni and Anadarko Petroleum. Known locally as al-Shabaab, the same name of the al-Qaeda-inspired group in Somalia, the fighters have burned villages and carried out beheadings since October in areas close to where the companies plan production.
In the spotlight | The lightning diplomacy between the U.S. and North Korea before next week's summit has thrust a little-known CIA officer into the spotlight as a key intermediary. But those familiar with the intelligence community say it's likely Andrew Kim will take a more skeptical tone than Trump on North Korea's pronouncements, providing a counterbalance to a president who seems bent on making a deal regardless of the cost.
Japanese Prime Minister Shinzo Abe meets Trump at the White House today. Besides North Korea, there's another issue that will top his agenda: The fate of 12 Japanese citizens abducted in the late 1970s and early 1980s.
And finally ... Trump may have made a tense relationship with Justin Trudeau more strained. According to the Canadian Broadcasting Corporation, when the prime minister asked last month why the U.S. decided to impose trade tariffs for reasons of national security, the president replied: "Didn't you guys burn down the White House?" — an apparent reference to the sacking of Washington in the War of 1812. The thing is, Canada didn't become a country until 1867. And the building was torched by the British.