World Economic Forum Is Still Undecided on Its Davos Meeting
(Bloomberg) -- The World Economic Forum still hasn't decided whether to hold its high-profile gathering of global business and financial leaders in Davos, Switzerland, next year
Planning for the annual event, normally held in January at the skiing village, is under way but it's not yet clear what form it will take, WEF founder Klaus Schwab told Bloomberg Television on Friday.
"Our first priority of course is the health of every single participant, we are working closely together with the host country," he said. "We will conduct the annual meeting definitely. As far as the timing and place is concerned, it depends on the health situation."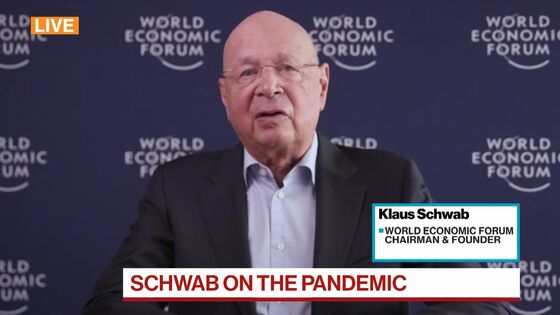 WEF aims to make a decision in September and has revised contracts with local hotels that usually house participants, a person familiar with the matter said this month.
The organization said in June that it plans to hold some form of gathering of business and financial titans in Davos in January. It would be a twin summit, with some delegates in Switzerland and others joining virtually from more than 400 hubs around the world, it said at the time.