Women, Black Adults Make Gains That May Last In Hot Job Markets
(Bloomberg) -- Women and black workers win when the U.S. economy runs hot for a while, according to new research from Federal Reserve Bank of San Francisco President Mary Daly and co-authors.
"We find suggestive evidence that certain disadvantaged workers especially benefit from further strengthening when the labor market is already strong," according to the paper by the Brookings Institution's Stephanie Aaronson, Fed Board economists David Wilcox and William Wascher, and Daly. "Moreover, for women and blacks these gains appear to be at least somewhat persistent."
The researchers look at how 25- to 64-year-old adults fared in expansions between 1976 and mid-2018, defining the economic cycle by the overall unemployment rate: "Hot" economies are ones in which joblessness is below the Congressional Budget Office's estimate of its so-called natural rate. Like previous studies, they show that blacks, Hispanics and those with limited education have worse job-market outcomes when the economy is faltering and stronger gains when it's tight.
But their key finding -- that benefits for minority groups intensify during hot labor markets and might linger for at least a while afterward -- is important for monetary policy. It suggests that when the Fed leaves rates low and lets the labor market run strong, the choice could help to narrow long-standing labor market inequities, at least temporarily. That contrasts with an often-repeated refrain that rates are too blunt a tool to address such distributional issues.
"The last increments of strengthening appear to reduce labor market disparities by a little more than earlier increments of strengthening had done," they wrote in the analysis. The results are "consistent with there being positive spillovers from an expansion that could have lasting benefits to individuals and the economy."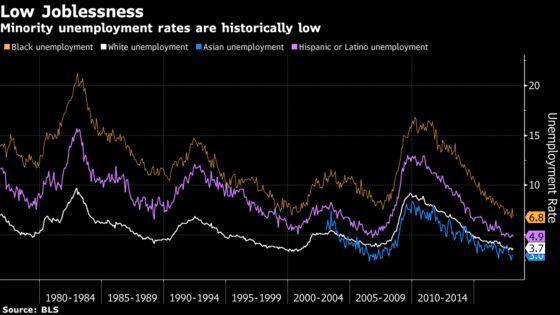 That said, other studies suggest those effects might fade, and running a super-tight job market does require some risk-taking. Inflation could take off as labor shortages bite, driving up wages and prices. Investors may take on excessive risk as they search for greater returns in a low-rate world. If either situation leads to a sharp pickup in rates that drives joblessness higher, minorities might pay the most.
Hot economies can also distort incentives, the authors note. People might skip college or training to cash in on plentiful job opportunities, a decision that will cost them in the longer run. Companies might defer needed reorganizations because of the sales they'll miss in a booming economy.
"Running a hot economy also brings with it some potential costs that policy makers should take into account when making their policy decisions," the authors write.