Women Are Handed the Reins to Steer Serbia's Monetary Policy
(Bloomberg) -- Serbian lawmakers approved two women to become new vice governors at the central bank, creating a gender ratio unique in Europe in a team that sets the Balkan nation's monetary policy.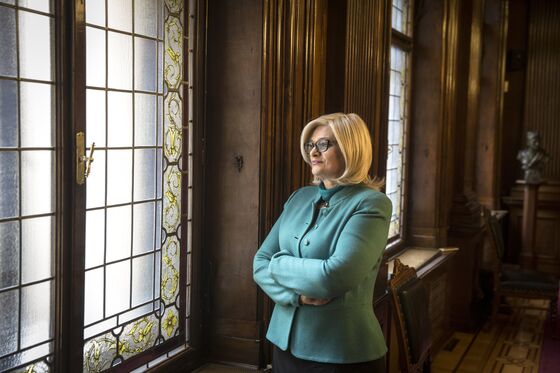 Dragana Stanic and Ana Ivkovic were appointed Tuesday to join Governor Jorgovanka Tabakovic's team at the National Bank of Serbia, meaning women will hold three of the four seats on the executive board that sets the benchmark interest rate each month. The proportion eclipses that of women managing monetary institutions in developed economies, which ranges from 3.4 percent in Japan to 50.9 percent in Sweden, according to data compiled by Bloomberg.
"It's not about meeting any quotas," Tabakovic said in written response to Bloomberg questions. "The same as I believe it's wrong to deny someone's advancement just because she's a woman, I consider it equally wrong to offer someone a chance just because she's a woman."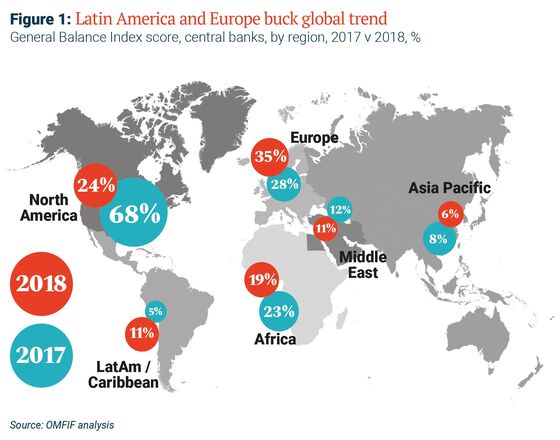 Stanic, 43, previously served as the central bank's director for payment systems, while Ivkovic, 44, was in charge of economic research and statistics.
Despite a largely conservative and patriarchal society that includes the Orthodox Church, the country of 7 million people is ahead of most other countries in the number of women holding influential positions. It ranked 40th out of 144 countries in last year's Global Gender Gap Index report by the World Economic Forum.
The 250-seat parliament, which approved the new vice governors, has 93 women deputies, or 37 percent of the total. That's above the European average, according to the Inter-Parliamentary Union. Serbia's election rules require that at least a third of candidates on party lists running for the national or local assemblies be women.
Last year, President Aleksandar Vucic picked Ana Brnabic, a non-partisan government minister, for premier, making her the first openly lesbian head of government in central and southeastern Europe. She often refutes critics who claim her role as head of government is limited as Vucic defines and conducts key policies.
"It's surprising -- there are not many female central bank governors or vice governors in the world," said Milojko Arsic, a former vice governor at the central bank and now the head of the Foundation for the Advancement of Economics think tank. "Unfortunately, in this case, I'm afraid the appointments are based on their loyalty" to Tabakovic, who is a member of the ruling Serbian Progressive Party and an ally of Vucic.
That contrasts with research from Ibrahima Diouf and Dominique Pepin of the Universite de Poitiers in France, who wrote in a 2017 paper that they found female central bank chairs focus more than their male counterparts on achieving their price stability goals. "This means, then, that women are more resistant than men to political pressures," they wrote.
One central bank that bears some similarity to Serbia's is that of its close ally Russia. It has five women on its 12-member board of directors, including Governor Elvira Nabiullina and two of her four first deputies, Olga Skorobogatova and Ksenia Yudaeva.
By comparison, the European Central Bank has only one woman, Sabine Lautenschlaeger, among its six policy makers. In 2013, the ECB set gender targets to have at least 35 percent of women in its management positions by 2019. As of late 2017, 27 percent of the positions were held by women, compared with an interim target of 29 percent.