With Jobless Rate Yet to Peak, U.K. Has 1-in-6 Not Working
About 1-in-6 of the U.K. workforce remain off the job following the coronavirus pandemic, underscoring the task facing Chancellor of the Exchequer Rishi Sunak as he tries to revive the economy from its worst slump in three centuries.
The "Covid employment gap," as the Resolution Foundation calls it, totals more than 6 million people including about 4.7 million who are still receiving government furlough pay after their workplaces shut in the crisis. The risk is that many of them will be let go as government wage support is wound down.
"Unless this gap is closed before the furlough scheme ends in September, we are likely to see a worrying rise in unemployment later this year, which will extinguish many people's hopes of a post-Covid living standards recovery," said Nye Cominetti, senior economist at the London-based research group.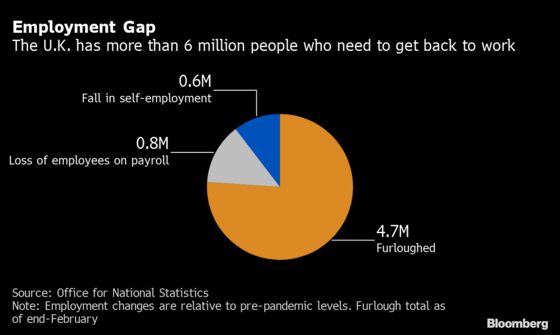 The warning comes amid tentative signs of an an improvement in the labor market as firms prepare for restrictions to lift over the next two months. Job vacancies jumped by 16% last month alone ahead of the reopening of non-essential stores on April 12.
Unemployment has been suppressed during the pandemic by tens of billions pounds of Treasury wage subsidies. The jobless rate fell to 4.9% in the three months through February, government figures published Tuesday show, though the Office for Budget Responsibility expect it to end the year at 6.5%, or around 2.2 million people. The headline figure was flattered by the departure of at least 80,000 people from the workforce because they are not looking for jobs.
Young people have borne the brunt of pandemic job cuts, reflecting their reliance on sectors such as hospitality and retail that were forced to close.
People under the age of 35 accounted for more than 80% of the 827,000 employee payrolls lost since February 2020, according to the Office for National Statistics. Unemployment among 18 to 24-year olds is almost 13%.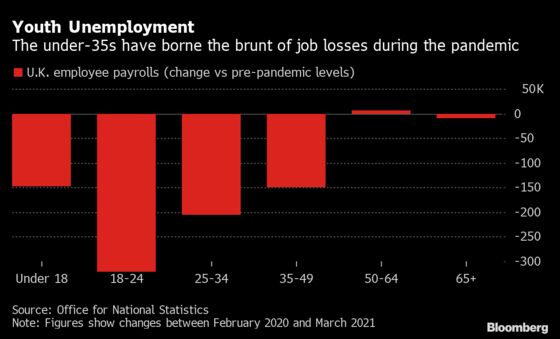 That underlines just how important it is for Prime Minister Boris Johnson's government to stick to its plans to remove all remaining legal restrictions on national life on June 21, said Kate Nicholls, chief executive of UKHospitality, a lobby group.
"Even then, with so many companies facing rent debts and business rates bills, after more than a year with little trading, many companies -– and thousands more jobs -– will be in jeopardy unless further support is forthcoming," she said.