Israel Looks for Answers to the Second Virus Wave
(Bloomberg) -- The Bank of Israel said it plans to purchase corporate debt for the first time as a new surge in Covid-19 cases stalks the economy.
In its decision Monday, the monetary committee maintained its key interest rate at an all-time low of 0.1%, in line with forecasts, but said it was worried about a resurgence in infections and would put new tools into action.
The central bank said it will purchase 15 billion shekels ($4.3 billion) worth of corporate bonds, with the goal of reducing the cost of borrowing for companies and making more credit available to the economy.
"Currently it appears that the health situation is becoming more severe, and that the risk of additional deterioration in the economic situation has increased," Governor Amir Yaron said at a news conference after the decision.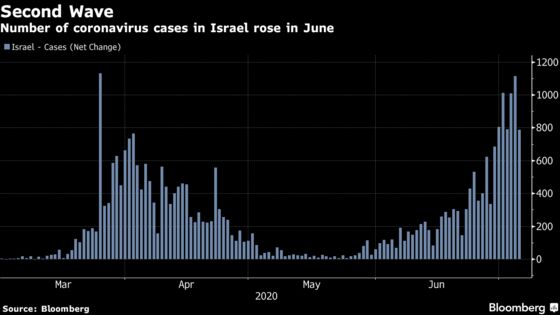 The second wave of contagion is complicating plans by the central bank to step aside in favor of a primarily fiscal response to the crisis. Since March, the Bank of Israel rolled out a series of crisis programs to boost liquidity and credit including 50 billion shekels of government bond purchases.
Until now, policy makers had refrained from entering the corporate bond market -- although they maintained it was an available option.
The shekel extended losses after the announcement and was 0.5% weaker at 3.4544 per dollar as of 6:15 p.m. The Tel Aviv Bond 40 Index, which tracks some of the biggest traded debt on the local stock exchange, rose 1.5%.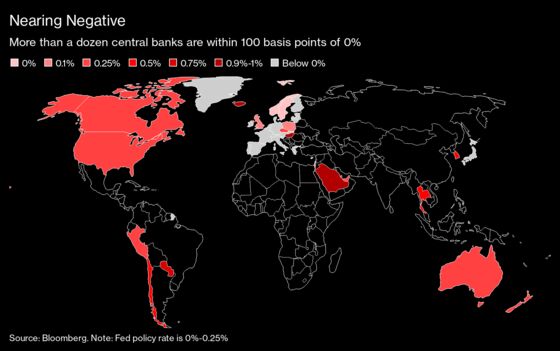 Noting a recent widening of corporate spreads, the central bank said it will conduct purchases in the secondary market on the basis of a broad benchmark of securities, which includes only companies rated A- and higher.
The benchmark doesn't include foreign companies' bonds, bonds with an equity component, or bonds that aren't indexed to the shekel and aren't fixed rate

Three-quarters of Israel's corporate bond market, valued at about 341 billion shekels, are eligible for purchases

The central bank also renewed a plan to provide banks with fixed-rate loans at 0.1% rate for a term of three years
It will additionally create operational and legal infrastructure to enable banks to put up mortgage portfolios as collateral against credit
"All it took was a second wave of Covid-19, weak data and a very strong shekel to wake the Bank of Israel," Guy Beit-Or, head of macro research at Psagot Investment House, said in a report. "Together with the new corporate-bond purchase program, the current monetary stance is Israel is expected to give the much-needed support to the corporate bond and stock markets."
Just over a month after turning more upbeat on the economy, the Bank of Israel's research staff also released new forecasts, calling for a deeper contraction this year. Government officials are issuing new restrictions, including imposing partial lockdowns, as they try to keep the renewed outbreak in check.
The research department downgraded its growth projection to a decline of 6% this year, while raising its 2021 growth forecast slightly to 7.5%
Bank of Israel's interest rate now seen between 0% and 0.1% in one year
Inflation forecast lowered to minus 1.1% in 2020
Coronavirus infections plummeted after the government imposed a near-total shutdown from mid-March through late April, but opening up the economy has brought the disease back to new daily highs.
The central bank also has to contend with the steepest annual fall in consumer prices since 2004. Over the past month, the shekel continued to appreciate against the dollar, increasing fears that it could further limit inflation and hurt exporters.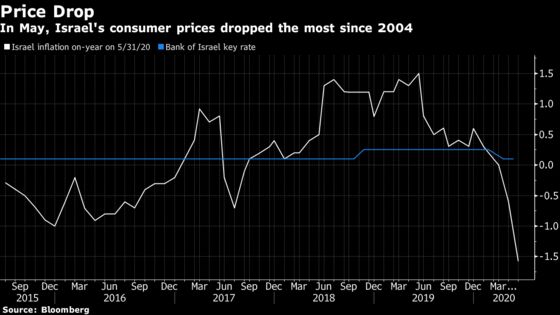 The Bank of Israel has already ramped up its program of foreign-currency purchases designed to weaken the shekel and rouse inflation. But despite tripling the amount it bought to $2.6 billion in May, consumer prices fell an annual 1.6% to stay below zero for a second month.
Beyond a stronger signaling of its resistance to shekel gains, the central bank's options are limited unless it's willing to carry out unsterilized currency intervention, an operation that officials have said remains a possible tool.
"The press release accompanying the decision suggests that the Bank of Israel is focused on growth and the transmission of low rates to the rest of the economy, with inflation and shekel strength as secondary concerns," Goldman Sachs Group Inc. economists Murat Unur and Kevin Daly said in a report. It "has ample room to ease further."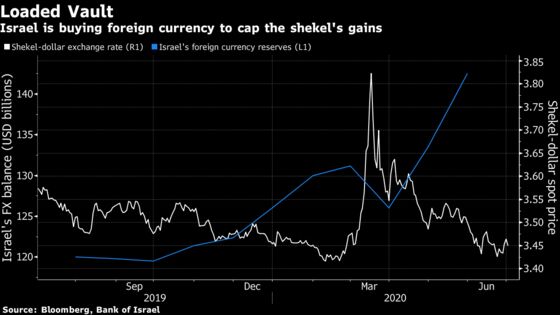 Some economists also believe there's a good chance that the Bank of Israel will cut its key rate to zero at approaching meetings -- though policy makers are hesitant to enter negative territory.
Additional steps could include a commitment to keep rates in an unspecified range or take the form of lifting the limits on bond purchases, according to Michel Nies, an economist for Citigroup Inc.
"Further action might be necessary," he said in a report. "We expect further FX market intervention as the strong shekel creates headwinds for exporters."