Winning Quant Strategy Buys Biggest Losers in China's Stock Market
(Bloomberg) -- Times of stress this year left few places for fund managers to generate market-beating returns. A quantitative fund in Alaska reckons it has found one that's borne out of weakness in the thundering herd of Chinese investors.
Here's how it works. At the start of this month you bought a basket of the 25 Chinese stocks that slumped the most in October, and sold some of last month's biggest winners, according to McKinley Capital Management. That strategy would have generated a 6.9 percent return this month, according to data compiled by Bloomberg.
The catch? It doesn't work every month, though it has succeeded during two of 2018's most volatile periods. It's not cheap to execute, either, since it requires trading some of the most volatile and illiquid stocks in the country. And it's not easy for foreign investors to short the winners.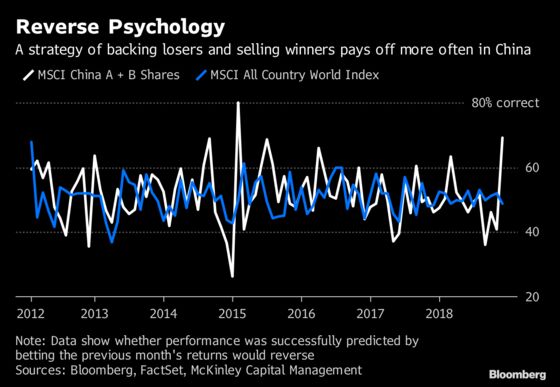 With many asset classes experiencing a resurgence in volatility after years of calm, the strategy may pay off if times of stress occur more regularly as global growth falters and monetary tightening ratchets up. But it's not for the faint-hearted -- two of China's biggest losers in October were a producer of ancient wine and a small-cap wind turbine maker.
"Short-term reversal has been an alpha-generating factor in China over the long-term," said Rob A. Gillam, chief executive and chief investment officer at McKinley Capital, an investment fund in Anchorage, Alaska.
The factor would have successfully picked the subsequent month's winners more than half of the time during the past seven years, according to a Bloomberg analysis of data compiled by McKinley. The 6.9 percent return this month, excluding trading costs, compares with a 0.2 percent gain for the CSI 300 Index.
While China's stock market is the world's second-biggest, much of the ownership is in the hands of local investors who are often prone to chasing the herd. A flighty investor base that largely excludes foreign funds can cause shares to whipsaw without warning more often than in other countries.
Here are some examples of winners in the strategy:
| | | |
| --- | --- | --- |
| Company  | October  | November  |
| Dr. Peng Telecom & Media  | -32% | +19.6% |
| Xinjiang Goldwind Science & Technology | -27% | +28.2% |
| Sichuan Swellfun | -32% | +3% |
The nature of the stocks involved -- largely small and mid cap names that can lack the liquidity of bigger companies -- can result in the benefits of this approach being diluted by higher costs. Short selling the prior month's winners could potentially juice returns even more, but restrictions on foreign investors in China limit this practice.