Even the Trade War's Winners Will Lose Eventually, APEC Chief Says
(Bloomberg) -- Finance ministers of Asia-Pacific Economic Cooperation member nations glossed over global trade risks arising from the deepening tensions between the U.S. and China, while underplaying the effect it will have on the region.
Trade was mentioned only once in the 1,800-word statement released after the meeting of APEC finance ministers and officials in Port Moresby, Papua New Guinea on Wednesday. Heightened trade and geopolitical tensions were among risks the global economy faces, it said.
"In the joint statements, the ministers are silent on that," reflecting a difference of opinion, Hong Kong Financial Secretary Paul Chan said at a briefing. "What we would urge in the context of the escalating trade tensions is for the related countries to resolve the issues through negotiation and discussion in a multilateral system."
The U.S. affirmed its support for free trade, citing recent progress in a deal made with Mexico and Canada.
"We do support free, fair and reciprocal trade," said Heath Tarbert, U.S. assistant secretary for international markets and investment policy under the Department of Treasury.
The U.S., though, is very concerned about certain countries moving away from market- oriented policies that is harmful not just to it but to other economies as well, he said.
While the APEC members felt differently about the risks from a trade war, the head of the forum's secretariat said there's no escaping the impact of the U.S.-China standoff, even for countries that stand to benefit from it in the short term.
"The models show a certain amount of trade diverts out of China to Northeast Asia or Southeast Asia," Asia-Pacific Economic Cooperation Secretariat Executive Director Alan Bollard said in an interview in Port Moresby. "So they get positives in the short term. But in the medium term, there's quite a significant impact from uncertainty and from trade distortion; so things getting produced in more expensive locations than they otherwise would be."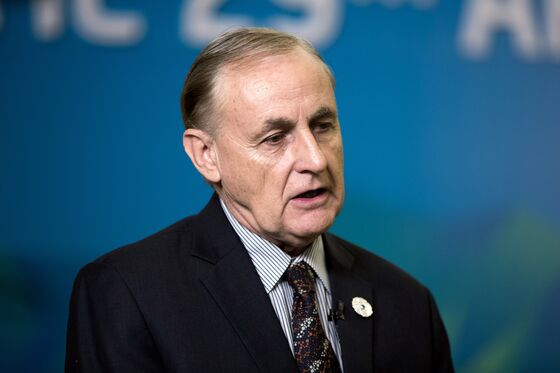 Finance officials from the 21 APEC countries discussed the outlook for the region against the backdrop of financial market volatility and the trade war between the world's largest economies. Last week's meeting of finance chiefs in Bali hammered home the message that simmering trade tensions are already denting global growth and need to be resolved.
There is some optimism, with APEC expecting that there won't be an escalation in the trade war and that the impact will be small as domestic demand remains robust.
"We've just been talking about economic forecasts and risks in the region and the region is still growing strongly," Bollard said on Wednesday. "Trade driver is playing a little bit less of a role and it's more domestic demand drivers."
Trade data in the fourth quarter will give more clues as to whether trade flows will remain resilient, he said.
"Trade flows have generally held up, but there is a possibility that what we are seeing is an increase in inventories," Bollard said. Buyers may be building up stock before they get hit by tariffs or may be concerned about availability of certain products, he said.
Mounting debt, particularly those of non-financial companies and households, also pose a risk, Bollard said.
"We see a number of east Asian economies starting to build up debt levels to what is more common to the West," he said. "Those look manageable unless there is a significant shock from faster-than-expected monetary tightening in the U.S. and some developed economies."