Will U.K. Interest Rates Rise in December? History Suggests No
Traders and economists are convinced that the Bank of England will increase interest rates in December for the first time since the pandemic began, but students of the central bank's history may harbor more doubts.
The BOE has only hiked rates once in December in the past 45 years, and it's much less likely to move outside months when it also delivers forecasts and a press conference where it can explain the decision to the public. The next one of those is in February. 
Christmas is little more than a week away from the Dec. 16 rate decision, and policy makers led by Governor Andrew Bailey have been pointing out reasons why they might hold off on raising rates. Those factors may leave the BOE reluctant to disrupt the bumpy recovery from the pandemic with a bout of monetary tightening until after the holidays are past.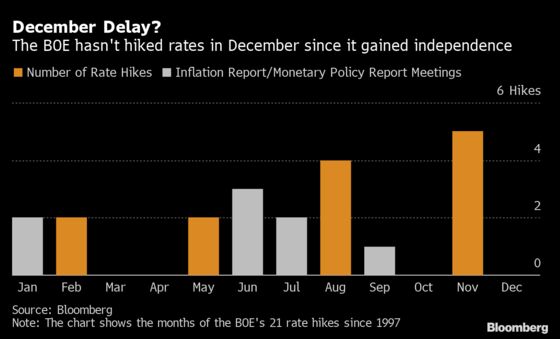 "The timing of the meeting is awkward," said Andrew Sentance, who served on the MPC from 2006 to 2011. "It is only seven working days before the holidays. It's a very difficult time to read the economic data as we won't know how Christmas has gone, on both retail and jobs."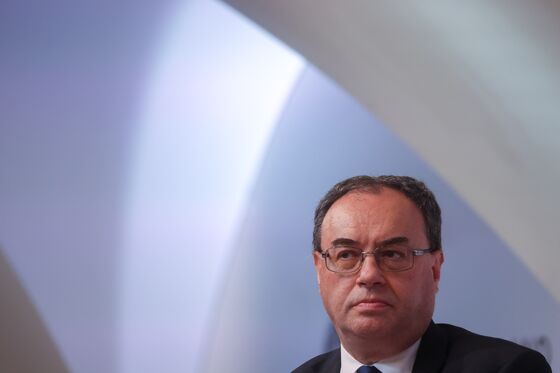 "I can imagine committee members on the more cautious side saying, 'Wait until February, we will have data for the Christmas period.'"
The BOE has always stressed moves are possible at any meeting, and officials are still likely to act if they see a need to act against surging inflation. Even so, there are three reasons why a move would be so unusual:
The only time the BOE raised rates in December in the past four decades came in 1994 as the economy recovered from crashing out of the exchange rate mechanism years before. 
The BOE hasn't lifted borrowing costs once in December since it gained authority over monetary policy in 1997. It cut rates three times in the final month of the year.
Similarly, only eight of the BOE's 21 hikes since 1997 have come in months where it hasn't also delivered its economic forecasts through its Inflation Report, or its current incarnation as a Monetary Policy Report. 
The last time was in July 2007. The BOE did kick off a tightening cycle with such a hike in September 1999, and ended up increasing rates five times across seven meetings.
Mark Carney introduced "Super Thursday" when he was governor in 2015,  the nickname for the quarterly events when the BOE simultaneously publishes its decision, minutes and forecasts -- and holds a press conference. 
Since then, the central bank has only ever changed policy at those meetings, excluding the emergency actions during the pandemic.