Why Dropping 'Accommodative' May Not Signal Much From the Fed
(Bloomberg) -- Federal Reserve officials on Wednesday dropped their long-standing description of the central bank's monetary policy as "accommodative." Jerome Powell, the central bank's chairman, then quickly threw cold water on the idea that the change was meaningful.
"This change does not signal any change in the likely path of policy," Powell said in the press conference after the Federal Open Market Committee wrapped up its latest two-day meeting. "We still expect, as our statement says, further gradual increases in the target range for the fed funds rate."
Calling interest rates accommodative means policy is adding fuel to the economy. As they rise, they'll eventually hit a neutral level where they aren't pressing the accelerator or the brakes. Dropping "accommodative," as Powell hammered home, simply acknowledges rates are moving closer to that level.
In the wake of the FOMC statement, some Fed watchers construed the move as a dovish signal that the Fed is nearing the end of its hiking cycle, or is at least closing in on a pause. But such a conclusion ignores other factors.
For starters, policy makers don't agree on where the neutral level actually sits. Estimates within the Federal Open Market Committee released Wednesday ranged from 2.5 percent to 3.5 percent.
On top of that, even if officials agreed on its location, they haven't come to any consensus on whether they should stop at neutral or press on into restrictive territory. So dropping the word "accommodative" sooner rather than later doesn't necessarily telegraph near-term rate intentions.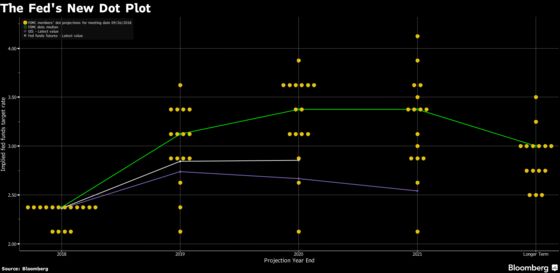 Then there's the dot-plot of Fed rate forecasts. Those remain unchanged today in calling for another hike in December and three more next year. That means officials are explicitly communicating that no policy shift is on the horizon.