Why China Lost a Key Measure of its Industrial Heartland
(Bloomberg) -- The scrapping of a closely watched gauge of China's industrial heartland all came down to the paperwork.
That's according to the country's National Bureau of Statistics, which said that it withdrew permission for the purchasing managers index for factories in Guangdong after the province let its approval lapse. The province can start releasing the data again when it gets approval, according to the NBS.
Chinese factories have been struggling in recent months as they grapple with uncertainties triggered by a trade war with the U.S. and a slowdown in consumption growth at home. The manufacturing PMI for Guangdong had dropped to 49.3 in August -- the first time the gauge has dropped below the line of 50 that separates expansion and contraction since early 2016.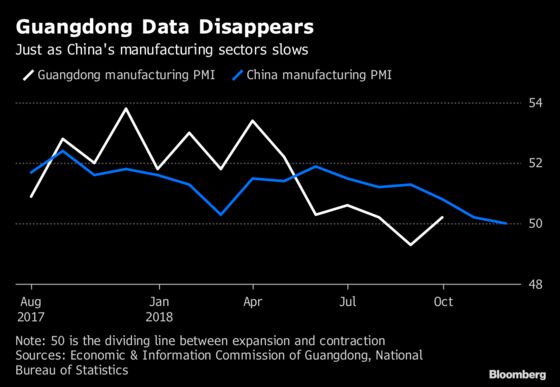 The fact that the province stopped releasing the data soon after that -- but didn't announce it, or explain why -- prompted speculation that the central government was trying to conceal inconvenient data. The provincial government department in charge hasn't responded to a request for comment sent via their website.
The NBS has sought to standardize and centralize data collection across China's continent-sized economy in recent years as it seeks to dispel doubts about the veracity of the nation's economic readings.