Why a Housing Cool-Off May Leave Consumers Unperturbed This Time
(Bloomberg) -- In a post-financial-crisis world, the phrase "housing market slowdown" has a ring of impending disaster.
But as the $220 trillion global housing market starts to cool off in some places against a backdrop of monetary policy normalization, economists at Eurizon SLJ Capital offer a reason for calm. Because price declines are hitting extremely expensive cities, they might not drag down consumption the way standard theory would predict. We summarize their research below and provide links to other studies that caught our eye over the past week.
(You're reading Bloomberg News' weekly economic research roundup)
In theory, a housing price decline should leave households feeling less confident about their finances and less willing to spend. But the pace of home price increases has exceeded the rise in disposable incomes by so much in some markets that a little cool-off might instead make consumers less budget-constrained.
"Modest declines in property prices in Mumbai, Hong Kong, Shanghai, London and even New York City may not lead to a significant weakening in consumption," write Stephen Jen, CEO of the London-based hedge fund, and economist Joana Freire. That's good news, because they think global property prices may have peaked for the cycle, noting that they're in decline in London, New York, Stockholm, Hong Kong and many other cities.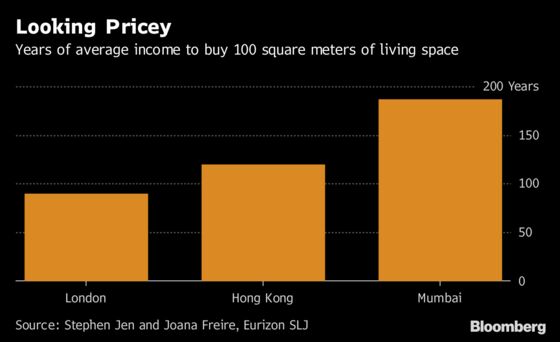 "Since property prices had gone too high, the incipient price correction -- assuming it remains modest and gentle -- may perversely lead to an increase in consumption," they write.
In the U.S., the S&P Case-Shiller housing index has showed home-price increases slowing. A recent Trulia analysis suggested that the booming real estate market in California's Bay Area -- home to some of America's priciest abodes -- are showing signs of tapering off in some places.
More on the housing wealth effect: 

Housing Wealth and Consumption, Fed Board, 2011. A review of the research says co-movement in home prices and consumption owes considerably to borrowing against housing wealth. 
Wealth Effects Revisited: 1975-2012, National Bureau of Economic Research, 2013. Finds a substantial housing wealth effect on spending, both to the up- and the down-side.