White House Is Eyeing Infrastructure Needs, 'Broadly Defined'
(Bloomberg) -- The White House sees a "long list" of urgent and important needs for the next economic package focusing on U.S. infrastructure as well as addressing climate change and other issues officials see as related, according to an economic adviser.
The next proposal will include infrastructure, "broadly defined," Heather Boushey, a member of President Joe Biden's Council of Economic Advisers, said Monday in an interview with Bloomberg Television. "There is a long list of things that we need to invest in," including the power grid and a plan to bolster child and elder care, she said.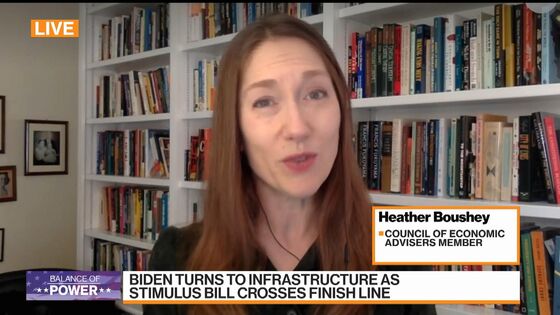 The Biden administration and congressional Democrats are deliberating how to structure the president's "Build Back Better" economic package after he signed into law $1.9 trillion in coronavirus-relief spending last week. The plan could potentially encompass spending of at least $4 trillion over 10 years on long-term infrastructure policies, cover strategic industries and also aim to reduce inequality.
With the costly package comes questions of how the administration would fund it. The plan would cover ways to pay for long-term measures, Boushey said, echoing Biden's stance.
"We have seen the damage that can do to our economy and our society when we do not make those investments," said Boushey.
Along with federal funds, those at the top of the income distribution whose incomes remained stable and didn't experience large shocks in the recession should expect to give back to the economy that served them well, Boushey said.
"Folks at the top have been able to benefit from this economy and haven't been as hard-hit," said Boushey. "There is a lot of room there to think about what kinds of revenue we can raise."