In London's Wounded Night-Time Economy, The Ned Limps On
(Bloomberg) -- When The Ned hotel opened its doors in London in 2017, its art deco style made comparisons to New York's Roaring Twenties, with its stock market boom, inevitable. City workers flocked to it, gladly paying 12 pounds ($14) for a glass of Malbec, 17 pounds for a shrimp cocktail at Lutyens Grill and 32 pounds at Italian restaurant Cecconi's for lobster linguine.
On Wednesday night, though, it felt more like the aftermath of the 1929 crash as the coronavirus kept tens of thousands of insurance brokers, traders and bankers from their usual nighttime haunts. Two guitarists on the bandstand played Adele's "Make You Feel My Love," adding to the melancholy atmosphere, while 10 people surrounded the bar, many huddled closely together.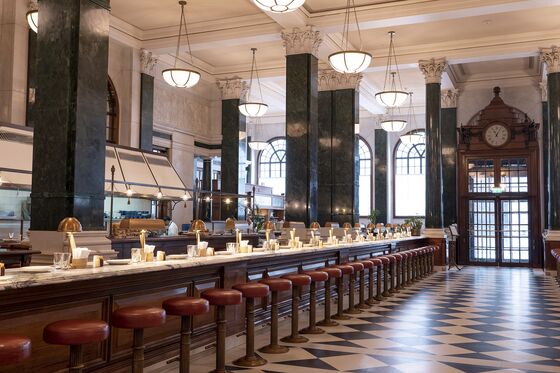 As rumors swept through London's main financial district that the city faced a lockdown, the buzz and guffawing that defines the area after work was replaced by a silence broken only by the odd vehicle and food delivery drivers in alleyways, laughing while they waited for their next order. The Jamaica Tavern, London's oldest coffee house and now a bar, was shut by 9 p.m., and Leadenhall Market, a favorite drinking hole for insurance workers, was almost deserted apart from a few people eating at Pizza Express.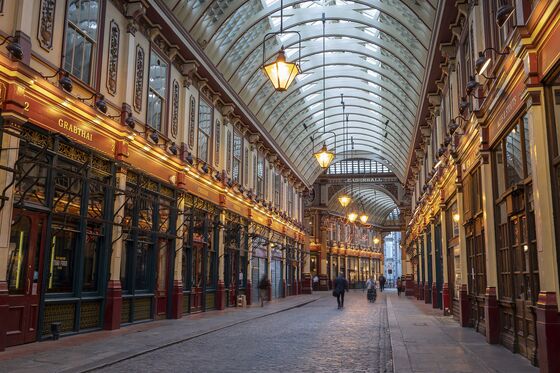 The empty streets evoked comparisons with Italy, which has been in lockdown since last week to help counter the spread of the virus. A shutdown of the U.K. capital would hit the night-time economy hard -- one in three employees in London works between 6 p.m. and 6 a.m., many in the pubs, restaurants and clubs most at risk of survival because of the pandemic.
Read more: Italy's Nightmare Offers a Chilling Preview of Virus Limbo
Across Britain, about a million people in the hospitality industry have probably lost their jobs, according to street food operator Jonathan Downey. With quarterly rents due next week, a further million workers are at risk unless the government announces a package of measures to help employees as well as imposing moratoriums on foreclosures by landlords and banks, he estimates.
Downey, who runs markets in the hipster districts of Shoreditch and Lewisham, has cut his own staff numbers from about 120 people to 18. The government's loan-package offer to bolster firms is welcome, he said, but pointed out that it's not clear who qualifies and on what credit terms. Without cash coming in, some operators will say they won't have a business in six to 12 months so why take a loan when it's unlikely they can pay it back, he said.
Virus-linked fatalities in the U.K. remain relatively low at 144 compared with Italy's 3,405, but the government has warned that Covid-19 is spreading faster in London after people failed to take its social-distancing advice seriously.
Prime Minister Boris Johnson, who has been criticized for the government's response to the crisis, has warned he could impose strict controls if required.
London's transport system plans to close as many as 40 underground stations, and bus services will be reduced to curtail the virus, measures that will make it more difficult for night-time workers who do keep their jobs to get to them.
Back at The Ned, which has 10 restaurants and bars, there were about 30 patrons spread throughout the main public area on Wednesday, a stark contrast to the hundreds of drinkers and diners who usually gather there to mingle and gossip.
Outside, a lone taxi was parked and a beggar sat cross-legged a few meters away. It looked set to be a long wait for both of them before normality returns.