Which Hedge Funds Got 'Whale Rocked' in October?: Taking Stock
(Bloomberg) -- Today is the deadline for 13Fs, where funds of all kinds will disclose what stocks they bought and which ones they sold in the third quarter.
But this filing period is a bit different than others because the quarter ended just days before a rout in the market began: The Nasdaq plunged 9.2% in October, its largest monthly decline since November 2008, while the S&P 500 fell almost 7%.
And volatility hasn't subsided since -- Just look at what happened in the e-minis overnight (rallying 16 points last night only to reverse by ~33 handles, and now practically flat) or what's been going in crude oil over the past month and a half, with WTI seeing virtually zero upticks in a straight slide from $77 to $55 per barrel.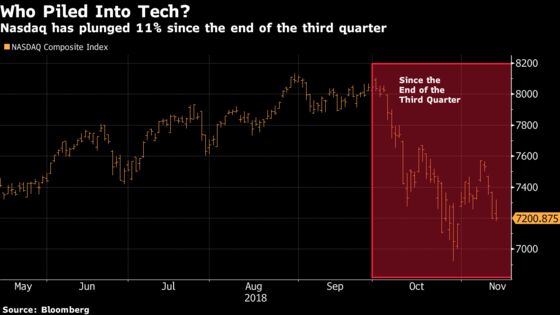 So what we may get is a proper look at who piled into some of the biggest pressure points of the market during the meltdown, for example the breakdown in the tech sector. What we won't get is a more up-to-date view on who panic sold and/or who doubled and tripled down as the selloff deepened. That'll have to wait until the next 13F season -- unless the investor letters leak before then, of course.
We've received some insight into the October carnage from several TMT-heavy hedge funds, like Whale Rock, the $3 billion firm run by former Fidelity portfolio manager Alex Sacerdote, which saw its flagship fund plummet 11% during the month; meanwhile, the master fund at Light Street Capital, Glen Kacher's $1.4 billion firm, fell more than 9%.
See the graphic below for a look at Whale Rock's top holdings by market value as of June 30, which can be viewed via the FLNG function; the positions will be updated later today when the new 13F gets filed.
As you can see, three of the FAANGs topped the list (Amazon was 8.6% of the fund's portfolio followed by Netflix 7.5% and Facebook 6.5%) while the rest of the top ten was littered with tech momentum names like Shopify, MongoDB, Nvidia, and Square, all of which are down many percentage points since the end of the third quarter.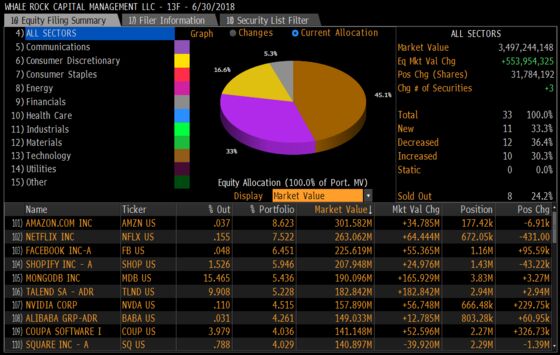 I'll be screening for which other funds potentially got "Whale Rocked," which is a completely made-up term by me in a bid to understand who else may have gotten wrecked when tech turned south. Of course, this non-trademarked term only works well in the context of one month's performance, as Whale Rock was still up for the year through October (up 4.7% vs S&P 500 up 1.4%), according to an investor document viewed by Bloomberg.
The keys will be to check who took a fat new stake or boosted their positions in some of the momentum names in the tech sector, many of which tend to be hedge fund hotels. On the flip side, I'll also be curious to see who exited their positions in the worst-performing sectors (tech & communication services, consumer discretionary, energy and industrials) and rotated into more defensive ones like the utilities, consumer staples, or REITs, all of which outperformed since the end of the third quarter, as the graphic below shows.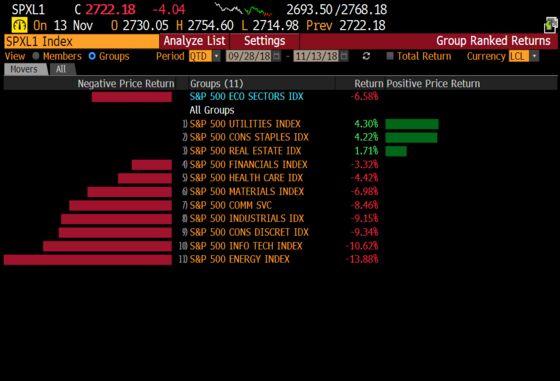 Here's a list of names to watch with their respective share move quarter-to-date:
Recent downward spirals: General Electric -24% (13F yesterday showed Bridgewater's top new buy in the third quarter was GE with ~2 million shares), Goldman Sachs -8.6%
The FAANGs: Netflix -21%, Amazon -19%, Apple -15%, Facebook -14%, Alphabet -13%
Other megacap tech names: IBM -21%, Baidu -20%, Salesforce -17%, Texas Instruments -12%, Alibaba -11%
Momentum: Roku -42%, GrubHub -38%, AMD -37%, World Wrestling -31%, Nvidia -29%, Match -28%, Spotify -27%, Square -27%, Snap -21%, Micron -16%, Shopify -16%
Video games: Activision -37%, Electronic Arts -27%, Take-Two -22%
Housing-related: Zillow -31%, Mohawk -30%, D.R. Horton -18, Lowe's -17%, Masco -15%, Home Depot -14%, Lennar -12%
Energy: Baker Hughes -30%, Marathon Oil -29%, Valero Energy -27%, Apache -26%, USO -25%, XLE -13%
California utilities after the wildfires: PG&E -29% (13F out last night showed Baupost boosted their stake in the third quarter by 322%, or 14.5 million shares) and Edison International -18%
Pot stocks: Aurora Cannabis -30%, Cronos -25%, Tilray -22%, Canopy Growth -21%
And what went up? Tesla +28%, Red Hat +27% (bailed out by the IBM deal!), TripAdvisor +24%, Starbucks +19%, Twitter +14%. Walgreens +12%, Procter & Gamble +12%, McDonald's +10%, CME Group +10%
Apple suppliers as traders brace for who's next to warn or miss numbers due to weak iPhone demand; so far we've heard from Lumentum, Qorvo, Hon Hai, Japan Display
Chinese megacap tech after the "T" in the BATs, Tencent, bucked the trend for the rest of the complex and reported earnings that surpassed all analyst estimates
Pot stocks after negative reactions to Tilray earnings (-3.6% in the pre-market) and Canopy Growth (-3.9%)
Department store stocks may move with Macy's results later this morning
Sectors that may move with earnings tonight include include networking (Cisco and Juniper) and Chinese Internet (NetEase) while tomorrow morning brings the consumer behemoth Walmart
Notes From the Sell Side
UBS equity strategist Keith Parker expects stocks to recover into year-end and says he targets 3,200 on the S&P 500 for 2019 assuming 7% EPS growth: "In years following a P/E decline of >1x, S&P 500 returns have averaged 16% as the P/E has recouped ~30% of the decline. We have also found that ~40% of sector and industry group (IG) relative returns have reversed in the year after de-rating."
Some on the Street are already calling for a reversal in crude, like Goldman's Jeffrey Currie who says a "negative gamma effect" is setting up for oil to snap back while Guggenheim's Michael LaMotte says the volatility looks overdone relative to fundamentals with expectations for Brent to bounce back to ~$70 per barrel by year-end.
Apple got downgraded to a neutral by Guggenheim's Robert Cihra: "Whereas a year ago AAPL looked like a table-pounder when iPhone units were weak but about to be more than offset by a big jump in ASPs (+17% Y/y in FY18), which ultimately drove Apple's best iPhone revenue growth in 3 years, we rather now find that setup flipped with 'growth via ASPs' widely known but just as those ASPs start to anniversary." Separately, UBS slashed its target on buy-rated Apple to $225 from $240 given supply chain cuts.
Morgan Stanley is clearly still cautious on anything auto-related. Within the auto suppliers, they slash price targets by ~20%, see risk to 2019 guidance into the Detroit Auto Show in January, and downgrade Tenneco to an underweight. And in the chip stocks, they say estimates are still too high for those that characterize their auto business as "stable" and reiterate underweight ratings for ON Semi and Sensata.
Tick-by-Tick Guide to Today's Actionable Events
Today -- Deadline for 13-F fund filings for the third quarter
Today -- FDA joint meeting on MNK's abuse-deterrent painkiller
7:00am -- MBA Mortgage Applications
7:00am -- Tencent earnings call
8:00am -- M earnings
8:00am -- BBT investor day (day two of two)
8:00am -- IBM at RBC Tech, Internet, Media and Telecom Conference
8:30am -- October CPI
8:30am -- OI, ACIW investor days
8:30am -- CGC, GOOS earnings call
8:30am -- COP at JPMorgan Energy Tech Tour
8:45am -- DWDP at Morgan Stanley Global Chemicals Conference
8:50am -- RDFN at RBC Tech, Internet, Media and Telecom Conference
9:00am -- Fed's Quarles to appear before House Financial Services panel
9:00am -- Liberty Media investor meeting
9:30am -- IPO to start trading after the open: Vapotherm (VAPO)
9:30am -- M earnings call
10:00am -- AVID investor day
10:00am -- BAX, HCA at Credit Suisse Healthcare Conference
11:00am -- GLRE investor day
11:10am -- BSX, CNC at Credit Suisse Healthcare Conference
11:45am -- CF at Morgan Stanley Global Chemicals Conference
11:45am -- CELG at Credit Suisse Healthcare Conference
12:10pm -- Citi CEO Michael Corbat on Bloomberg TV
12:45pm -- F at Barclays Global Automotive Conference
1:00pm -- UBSH investor day
1:00pm -- TLRY at Morgan Stanley Consumer Conference
3:00pm -- HAL at JPMorgan Energy Tech Tour
3:40pm -- AGN at Credit Suisse Healthcare Conference
4:01pm -- NTAP earnings
4:05pm -- CSCO earnings
4:30pm -- API oil inventories
4:30pm -- CSCO earnings call
4:45pm -- CPA earnings
4:50pm -- SBGI at RBC Tech, Internet, Media and Telecom Conference
6:00pm -- ZTO earnings
6:05pm -- Fed Chair Powell to discuss economy at Dallas Fed event
7:00pm -- NTES earnings
8:30pm -- China New Home Prices
Tonight -- IPOs expected to price: Centrexion Therapeutics (CNTX)