When a Death Spiral Takes a Pronounced Breather: Taking Stock
(Bloomberg) -- Before diving into Facebook and their ramifications for the wasteland that is tech (OK not really, but it seems like it if you zone in on the past 30 days), I wanted to bring attention to a possible shift in market sentiment across a brush of macro-sensitive sectors.
"Sicklicals" was a term coined last week to reflect the grave-looking stock prices of cyclical sectors like the homebuilders and the autos. The downward spiraling has come to a bit of a halt despite the S&P 500 crumbling further toward a hard definition of a market correction.
What's even more interesting is that some of the respite is coming about in the face of persistent terrible news -- a development that may suggest a bottom, at least for the short term, may be forming.
Take the homebuilders, where the SPDR S&P Homebuilders ETF XHB has seen equal shades of green and red over the past six sessions, a welcome change for those who watched their holdings dwindle before their eyes in the prior 24 days (where the XHB sank 17% with all but two sessions closing in negative territory). Another positive development is that two of the recent up days came on massive volume, as the chart below shows, while yesterday's 5% surge was the fund's largest in almost seven years.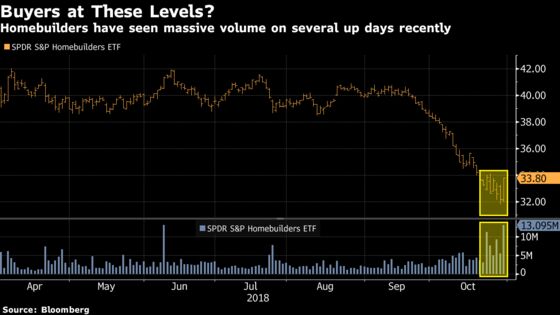 But it's not like the terrible news in the space has let up: 1) housing data remains in the dumps, as yesterday's Case-Shiller miss showed house prices cooling to their slowest monthly pace since 2016 while new home sales last week (lowest since Dec. 2016) showed a massive whiff versus the survey; 2) earnings haven't been particularly stellar, like PulteGroup's orders miss last week (shares have shot up almost 20% since) or smallcap William Lyon's bad revenue miss yesterday (the stock still catapulted more than 7%); 3) and yields remain relatively close to their recent peaks.
Or take a look at the incredible action in several building-products stocks Tuesday that reported weak prints, like faucet and cabinet maker Masco (initially sank ~6% after results only to end the day up 7.5%), or water heating name A.O. Smith and deck manufacturer Trex, which saw 14% and 19% intraday reversals, respectively.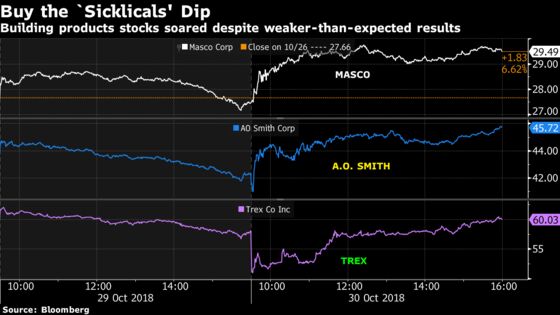 Same deal for construction material stocks (think cement and wallboard), which exploded higher on mixed results -- Eagle Materials missed, and yet closed up >10% after crashing more than 35% in the past three months, while Vulcan Materials had a much more crowd-pleasing report that sent the stock up more than 17%.
Breathers are also being seen in the autos, one group where sentiment appeared to be reaching a supreme low point just before earnings season kicked off ("There Will Be Blood" was the actual title of one note from weeks back). In fact, the automakers themselves have taken off in the past few sessions, as news of a China purchase tax cut sparked a mean reversal in the global names. The auto parts subgroup haven't seen the same upside moves, but at least the constant pounding has subsided, and that's despite persistently rougher-than-expected results from names like Autoliv, Dana, Veoneer, Goodyear Tire, and so on.
Anyway, you get the point. What it all means is clearly up for debate -- is this the bottom for these groups? Or perhaps even the market? -- but my hunch is that institutions are starting to see multiples for these "sicklicals" as just too cheap and could start to make some real inflows over the next few days or weeks if the bleeding stops for good.
It'd be weird if I didn't say something about Facebook, which is up 3.3% pre-market, though I don't particularly think the report has a whole heck of a lot of read-across to the rest of the group this quarter.
There are just too many other factors at play right now. No matter how good any of the tech megacaps' metrics were versus the whispers, it appears as though large holders want to sell (Netflix and Amazon both down ~24% month-to-date, Alphabet -13%, and Facebook -11% prior to last night's numbers) and will do so at will until they're more comfortable with their exposure.
But since Facebook is Facebook, let's take notice of some of the more interesting analyst takes, especially considering that some are becoming less bullish than they have been over the past five years (as the graphic below shows):
The bull -- Susquehanna's Shyam Patil, who previously had one of the highest price targets at $250 (now cut to $220), said third-quarter results were much better than feared and recommends clients "buy the bottoming out" of margins and the pace of deceleration in growth
The bears -- Pivotal Research's Brian Wieser slashes his price target to a Street-low $125 despite "decent" quarterly results, as the opex and capex guidance were "negative"; continues to view long-run revenue opportunities for Facebook more negatively than much of the investment community does because of limits to growth for the overall advertising industry
The sideliners -- Nomura Instinet's Mark Kelley says the print was a mixed bag, as was the outlook; "the revenue trajectory from here seems to depend on how effectively the company is able to switch from a feed-centric platform to Stories as the primary driver, which mgmt noted will take some time"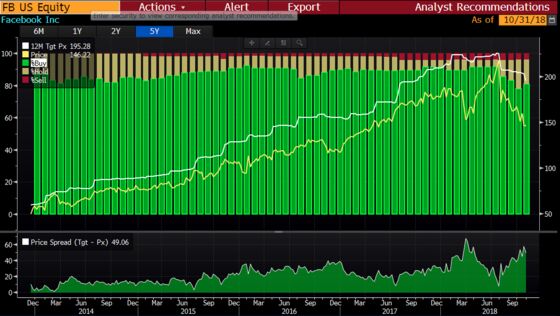 The FAANGs, Internet stocks and anything to do with social media after Facebook's near 4% gain this morning, plus EBay is also up >5% after earnings
Video game sector after EA sank almost 6% last night after guiding for a much worse forecast
Cybersecurity group after a ~6% positive reaction to FireEye's results
3D printer stocks, like Stratasys and ExOne, after 3D Systems plunged nearly 20% on a big miss
Telecom on a solid beat from T-Mobile US; note Sprint reports later this morning
Banks as the Fed will vote on changes to bank capital rules later this morning; Morgan Stanley said in a note Tuesday that the biggest potential beneficiaries is BB&T (~5% EPS increase) in addition to Capital One, Northern Trust, PNC Financial, U.S. Bancorp, and American Express
Sectors that may move on earnings later this morning include the autos (GM, plus monthly auto sales hits tomorrow), aerospace (Spirit Aero), and packaged food (Kellogg)
Sectors that may move with earning over the next ~24 hours include semis (NXP Semi and Qorvo), wearables (Fitbit), streamers (Spotify), e-commerce (Wayfair), truckers (XPO Logistics), lodging (Extended Stay and Wyndham), insurance (AIG and Allstate), mattress makers (Tempur Sealy), chemicals (DowDuPont), and fertilizers (CF Industries)
Notes From the Sell Side
The first major rating revision on GE since the earnings is out, and it's UBS's Steven Winoker upgrading the stock to a buy with price target $13 for three reasons: 1) conviction that Culp can lead the turnaround, 2) upside/downside now stands at favorable 3:1 skew after the recent selloff, and 3) "peak uncertainty has been reached" with future corporate event catalysts and portfolio moves helping improve visibility and strengthening the balance sheet.
BofAML is double upgrading fertilizer company CF Industries ahead of earnings tonight, citing nitrogen prices that are likely to remain elevated and channel checks indicating an inability to build inventory levels in recent months.
And a couple of machinery names (part of the whole "sicklicals" motif) in Cummins and AGCO are getting upgraded across the Street today. JPMorgan's Ann Duignan is one analyst that is lifting ratings on both stocks today, both to neutral on more evenly balanced valuation.
Tick-by-Tick Guide to Today's Actionable Events
Today -- IPO lockup expiry: CBLK, BCML, STXB, ASLN, ROAD
7:00am -- MBA Mortgage Applications
7:00am -- ADP, GNC, GRMN, ICE, APO (roughly), YUM, TAP, CHK earnings
7:15am -- BAX earnings
7:30am -- GM, S, SPR, HES earnings
8:00am -- K earnings
8:10am -- GM CFO Dhivya Suryadevara
8:15am -- ADP Employment
8:15am -- YUM earnings call
8:30am -- Employment Cost Index
8:30am -- S earnings call
9:00am -- GM earnings call
9:30am -- IPOs to start trading post-open: Orchard Rx (ORTX), Twist Bioscience (TWST)
9:30am -- K earnings call
9:45am -- Chicago PMI
10:30am - Fed meeting on bank capital rules
10:30am -- DoE oil inventories
11:00am -- CL earnings call
4:00pm -- QRVO earnings
4:01pm -- FISV earnings
4:05pm -- FIT, ZNGA, SSNC earnings
4:15pm -- XPO, CMP, STAY, WMB earnings
4:16pm -- AIG earnings
4:20pm -- ALL earnings (roughly)
4:30pm -- CF earnings
5:00pm -- FIT earnings call
8:00pm -- NXPI earnings (roughly)
9:45pm -- China Caixin PMI Manufacturing
Tonight -- IPOs to price: Axonics Modulation Technologies (AXNX)