What to Watch in Commodities: Oil, El Nino, Arcelor, Trade, ADM
(Bloomberg) -- Commodity investors have a mass of information to deal with this week: earnings season is in full flow; the oil market is tracking OPEC's decision to add supplies; and there are likely to be developments on global trade spats, especially on China. Raw materials are set to close out July with another loss after retreating in June. Let's see what August brings.
Among the highlights, tanker-tracking figures will give the first full month of data since OPEC's decision to add more barrels, and with weather woes dominating the news there's a key forecast on the outlook for an El Nino. Among top companies reporting, we have a focus on ArcelorMittal, as well as Archer-Daniels-Midland Co. and Bunge Ltd. Investors will also watch for earnings from BP Plc and Rio Tinto Group, and output data from Glencore Plc.
From ship tracking to geopolitics, there's plenty to keep an eye on in the oil market this week. There'll be the first full month of tanker tracking since the Organization of Petroleum Exporting Countries and its allies agreed to ramp up output in June. Bloomberg will also release its monthly output estimate for the group. OPEC's biggest producer, Saudi Arabia, said that its July exports would be "roughly equal" to June, but expect to see some increases from its allies.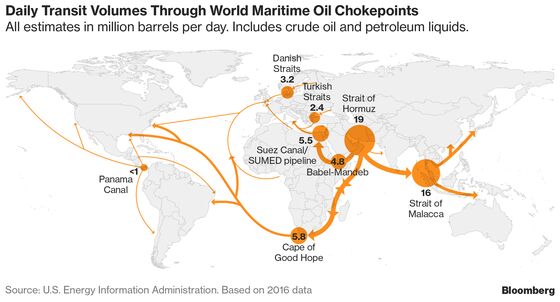 We'll also be watching developments in the Bab el-Mandeb Strait after Saudi Arabia said that it was halting shipments via that choke point after two tankers came under attack from Houthi militia. Look for signals of whether flows from other nations will continue and what the Saudis' next moves will be.
The world's weather has been pretty feisty in recent weeks, with extreme heat seen from Texas to Japan, and the blame being laid on a kink in the jet stream. There may be more trouble ahead, with a possible El Nino looming. Australia's forecasters deliver their next update on the outlook on Tuesday.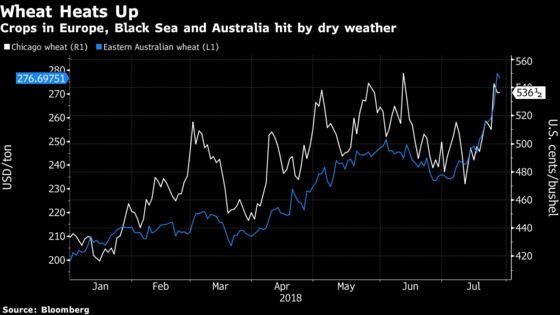 The pattern, driven by a warming of the equatorial Pacific Ocean, can profoundly impact the planet, baking swathes of Asia, making it wetter in California and risking drought in Brazil. Australia's Bureau of Meteorology has an El Nino watch in place, and next up would be an alert should the outlook firm up. The U.S. Climate Prediction Center has already put the chances of an El Nino at 70 percent between December and February.
President Donald Trump just made peace with the European Union, stepping back from the brink of a trade war. Now his administration is talking up the outlook for a breakthrough on Nafta, but what about China? The American public has until July 31 to submit comments to the government on the $16 billion in Chinese goods targeted for 25 percent duties, potentially adding to the levies on $34 billion in trade already in place.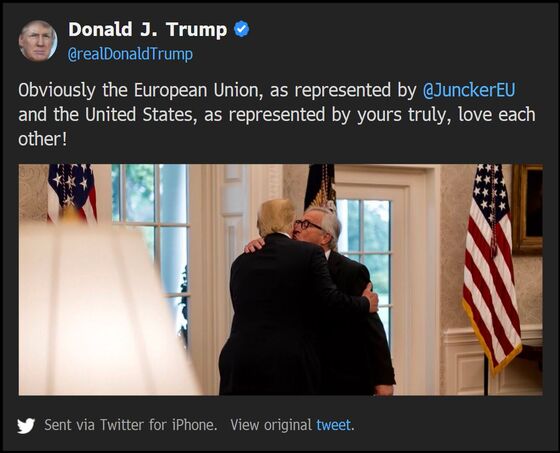 To view Trump's July 25 tweet, click here.
Trump's top trade negotiator downplayed the prospect of a quick compromise with Beijing. The Chinese government has already drawn up plans to retaliate against any additional U.S. tariffs. On Monday, Caterpillar, the bellwether for American industrial might, beat second-quarter earnings estimates and raised annual profit expectations as global demand for its iconic yellow bulldozers and other construction and mining equipment proved resilient to a nascent trade war. Tyson Foods Inc., the largest U.S. meat producer, isn't as lucky, after China and Mexico imposed import levies on American pork in retaliation to Trump's tariffs, prompting the Springdale, Arkansas company to cut its 2018 profit forecast.
ArcelorMittal, the world's biggest steelmaker, is in the eye of the storm of Trump's trade war. The company is expected to reveal bumper profits when it reports earnings this week, built on strong global demand. But of equal interest will be any signals it gives about the impact of steel tariffs.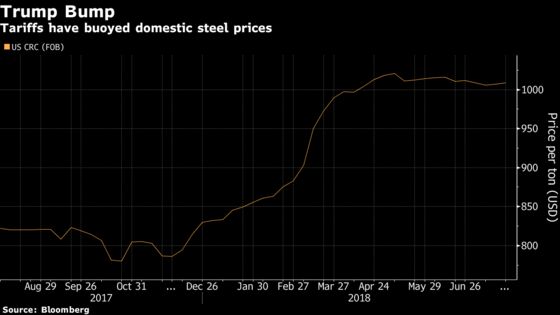 The company is in the unique position of being both a dominant steelmaker in the U.S., where the tariffs have sent prices soaring, and also major producer elsewhere, from Europe to Brazil and Kazakhstan. It stands both to win and to lose -- but mostly to win.
Tariffs will also be among the main focus when ADM and Bunge report earnings this week, only this time, it's China's retaliation to the levies imposed by Trump. Soybeans have been caught in the crossfire as the Asian nation, the biggest buyer of the oilseed, slapped duties on the oilseed, among other American goods.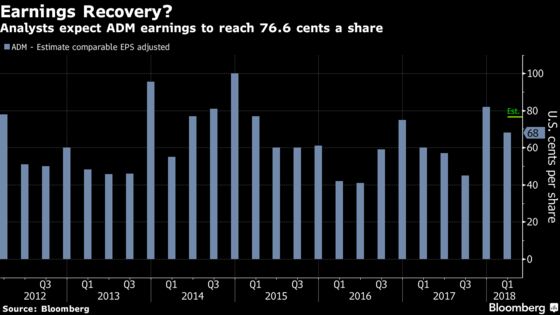 While ADM and Bunge have operations outside the U.S. that helped shield them from the trade friction, their exposure to South America also came with logistical challenges. Their competitor Cargill Inc. said the "insanely" high road freight costs imposed by Brazil after a truckers' strike, stalls forward soybean sales. Still, analysts expect ADM to post higher adjusted earnings in the second quarter, while Bunge is seen boosting profit by more than six-fold from a year earlier, when global margins were depressed by a supply glut.
Traders and analysts surveyed by Bloomberg turned bullish on copper prices for the first time in four weeks after China unveiled measures to support domestic growth amid a deepening trade rift with the U.S. The demand outlook for the metal is improving at a time when the union at Escondida, the world's largest copper mine, is calling on workers to vote against BHP Billiton Ltd.'s offer for a collective bargaining agreement and go on strike. Voting closes Wednesday. Last year, the two parties failed to reach an agreement, resulting in a 44-day labor strike that contributed to the global deficit in copper.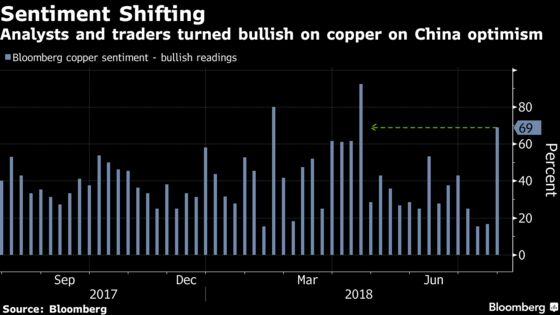 In the oil market, about 74 percent of the respondents were bullish on prices, while sentiment was also positive for wheat and corn. Terminal subscribers can see the other commodity surveys here.
Bloomberg proprietary forecast of Cushing crude inventory change; plus weekly analyst survey of crude, gasoline, distillate inventories
September Forties, Ekofisk and other loading programs for North Sea
Tribunal hears Vedanta Ltd.'s case to restart copper smelter in T. Nadu
Korea Electric Power Corp. extraordinary shareholders meeting
USDA data on grain-export inspections, crop-progress report
EARNINGS: Caterpillar Inc., Diamond Offshore Drilling Inc., Range Resources Corp., Transocean Ltd., SunPower Corp., First Quantum Minerals Ltd.
IEA World Energy Balances 2018 Overview, Paris
Bloomberg-compiled refinery snapshot for U.S. and Canada
Glencore Plc 1H production report
Australia's Bureau of Meteorology updates ENSO outlook
Origin Energy Ltd. quarterly sales and production
AmSpec, Intertek, SGS data on Malaysia's July palm oil exports
American Petroleum Institute weekly inventories data
Monthly crude oil production from EIA at noon
Petroleum Supply Monthly Report
FERC holds technical conference on reliability of bulk power system
EARNINGS: BP Plc, Archer-Daniels-Midland Co., Fresnillo Plc, Devon Energy Corp., Newfield Exploration Co., Whiting Petroleum Corp., Western Gas Partners LP, Arch Coal Inc., FirstEnergy Corp., JFE Holdings, Vedanta Ltd.
Fed policy makers issue interest rate decision. The target rate for overnight bank lending projected to remain in a range of 1.75-2 percent
U.S. Agriculture Department ends policy of giving crop data to news organizations under embargo in favor of posting reports directly on the web
Brent loading program
Gas Indonesia Summit & Exhibition in Jakarta, through Friday. Speakers from Royal Dutch Shell Plc, Woodside Petroleum Ltd., Eni SpA, Pertamina,
U.S. EIA weekly oil inventory report
EARNINGS: Tesla Inc., Bunge Ltd., Rio Tinto Group, ArcelorMittal, Kobe Steel, Occidental Petroleum Corp., Rowan Cos., Anadarko Petroleum Corp., Apache Corp., Marathon Oil Corp., Concho Resources Inc.,
Russian refining maintenance schedule from ministry
UN FAO monthly food price index
U.S. EIA weekly U.S. gas inventory report
USDA weekly crop net-export sales
EARNINGS: TransCanada Corp., Canadian Natural Resources Ltd., HollyFrontier Corp., Continental Resources Inc., California Resources Corp., EOG Resources Inc., Noble Corp., Chesapeake Energy Corp., Southwestern Energy Co., NRG Energy Inc., Duke Energy Corp., Scana Corp., Agrium Inc., Ingredion Inc., Potash, Pilgrim's Pride Corp., Nippon Steel & Sumitomo Metal Corp., Marubeni Corp.
ICE weekly commitments of traders report for Brent, gasoil
India International Gold Convention, Kochi, India, through Sunday. Speakers from World Gold Council, London Bullion Market Association
United Co. Rusal Plc board meeting to approve earnings
Baker Hughes Inc. rig count for oil and gas in the U.S.
CFTC weekly commitments of traders report
EARNINGS: Petrobras, Itochu Corp.