Trade, Fed, Profits: What Asia Stock Traders Are Watching Next
(Bloomberg) -- For now, Asian stocks are taking their cue from the U.S.
The regional equity gauge marched toward a three-week high on Thursday, after a 2 percent rally in the S&P 500 Index. In the end, the Democrats winning the House wasn't a negative for stocks as some previously feared, at least not for now. And the U.S. dollar has come off quite a bit since last week's high -- another reason for optimism in Asia.
But with the midterms finally out of the way, investors are turning to what's next.
For those in the region, the main question remains of course: what does this mean for the trade war? The hope is that Presidents Donald Trump and Xi Jinping will come up with an agreement, says DBS Group Research, noting that a split Congress should have no bearing on the handling of the negotiations. The two leaders are supposed to have dinner together at a Group of 20 summit later this month.
Then there's earnings, which have been pretty mixed. About half of the companies in the MSCI Asia Pacific Index that have reported results so far this season, have missed projections -- a picture reflected on Thursday:
SMIC Falls as Jefferies Cuts Target 25%, Lowers Revenue Outlook
Uni-President Slumps After 3Q Results, Citi Cuts Profit Forecast
Bandai Namco Surges Most in 4 Years on Big Profit Forecast Beat
PetroChina Profit Forecast Raised by Bernstein on Output Growth
What's more, since June, analysts have steadily cut their profit estimates for the next year.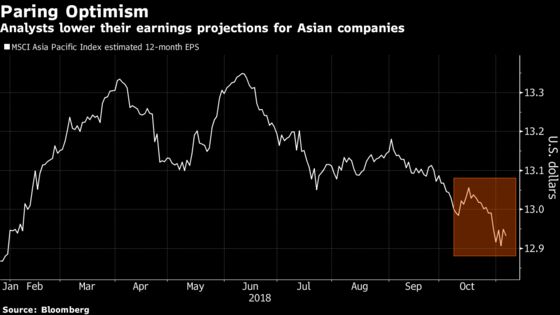 Let's not forget the Federal Reserve rate decision due later, which officials are likely to use to ponder broad policy questions. With the expectation there won't be any change to policy, this should be the last meeting before another rate increase in December, and the last without a press conference. Fed tightening hasn't helped Asia this year, with the region's emerging markets feeling the bulk of the pain as their currencies sank and foreigners withdrew money from equity funds.
For Thursday, though, the mood was upbeat in Asia, with Japanese equities leading the rally as the Topix climbed 1.7 percent. That's even as U.S. stock-index futures slipped slightly lower.
Here is some country-specific news for the region:
Malaysia kept its policy rate unchanged as economists had predicted. Its national benchmark, which climbed as much as 0.7 percent, was up 0.4 percent at the close.
The Philippine economy showed resilience, even though growth of 6.1 percent in the third quarter missed economist projections. Its stock market erased a slide of as much as 1.2 percent to end little changed.
New Zealand's central bank left the official cash rate at a record low and signaled the chances of an interest-rate cut are waning as a tight labor market and growing economy fan faster inflation. The nation's benchmark equity gauge pared a gain of as much as 0.9 percent.
India is celebrating the Diwali holiday, and its market will stay closed after an hour of auspicious trading Wednesday.
Japan's Topix index up 1.7%; Nikkei 225 up 1.8%
Hong Kong's Hang Seng Index up 0.3%; Hang Seng China Enterprises up 0.6%; Shanghai Composite down 0.2%
Taiwan's Taiex index up 0.4%
South Korea's Kospi index up 0.7%; Kospi 200 up 0.6%
Australia's S&P/ASX 200 up 0.5%; New Zealand's S&P/NZX 50 up 0.5%
Singapore's Straits Times Index up 0.9%; Malaysia's KLCI up 0.4%; Philippine Stock Exchange little changed; Jakarta Composite up 0.6%; Thailand's SET up 0.5%; Vietnam's VN Index up 0.4%