What Happened This Week in the World Economy and Why It Matters
The U.S., Canada and Mexico struck a deal for a revised Nafta, while not everyone is having a kumbaya trade moment. Oil that's poised to soar further is adding one more pressure point for economies already getting a grip on the Federal Reserve tightening cycle.
Here's our weekly wrap of what's going on in the world economy.
The week started on an upbeat note, with Canada joining Mexico and the U.S. in a revised Nafta. American farmers are pleased, while new Nafta – USMCA – is seen a lot like old Nafta. With the fresh pact, President Donald Trump removed an obstacle to focusing on China trade hostilities. Read up on the tic-toc of the deal process here, and all the highlights of the new deal here. Trump's trade moves already are hurting Chinese factories, and Japanese manufacturers are becoming less optimistic. Singapore is sounding more alarm bells about the prospects for a prolonged conflict. Hong Kong's stuck in the middle. The tensions with China spilled over into the South China Sea this week. Trump is still betting that the China-bashing will sway voters his way before tariffs hit too close to home and he may hold talks with his Chinese counterpart Xi Jinping at a meeting of the Group of 20 nations at the end of next month. U.S. officials are pointing to a Bloomberg News report of Chinese microchip hacking as vindication for an aggressive cyber stance.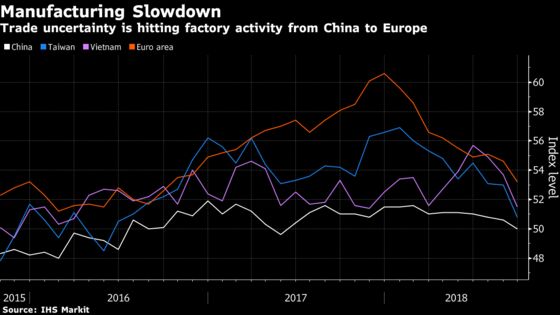 South Korea's Exports Decline During Holiday-Shortened Month
The Fed is carrying on with leading rich nations out of the near-zero-rate era, with Chief Jerome Powell again cheering on an "extraordinary" economy and predicting the central bank might go past neutral rates on its tightening path. Neutral-rate estimates are crawling higher, according to Bloomberg Economics analysis.
India's central bank kept interest rates unchanged in a surprise decision and Australia, Poland and Mexico also held this week. Uganda became the first major sub-Saharan African economy to hike rates in 2018. The Philippines is getting crushed by inflation, while Indonesia sees rupiah relief in the offing next year. Argentina's crisis maneuvers out of "hell" and toward a new monetary policy are paying dividends with a soaring peso.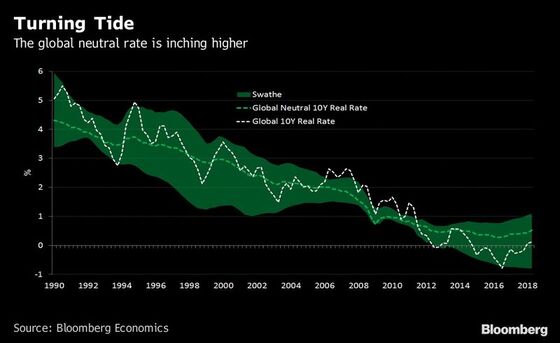 ECB's Rehn Says Gradual Policy Tightening Needed to Avoid Shocks
Prospects for $100 oil are keeping many pockets of the global economy on edge, including the likes of Egypt and in India, where oil prices are aggravating the weak rupee. It's all one more headache for emerging Asia economies. A Trump-Saudi king phone call grabbed traders' attention. Beyond oil, Europe holds a bit of angst around Italy: the new government offered a deficit cut from 2020 in a peace offering to the EU, but the budget plan hangs on an economic premise that looks too optimistic. The Turkish economy and lira are looking a bit better, while Brexit talks remain tense at a critical point in the timeline.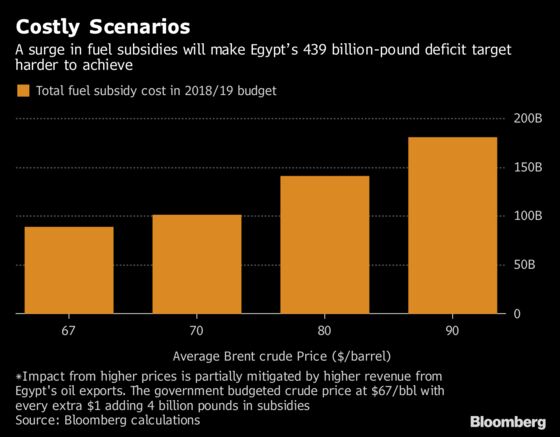 U.K. INSIGHT: The Free-Trade Brexit Challenge – Find 7 Americas
ECB Gets Boost as EU Court Adviser Backs Legality of QE Program
Job Market's Secret Sauce? Breakneck Hiring in Goods Production