What Happened This Week in the World Economy and What It Means
Investors are fast-losing faith in emerging markets, adding to pressures on policy makers whose fights with inflation and currency routs are getting more serious.
The world is bracing for the next batch of tariffs from the U.S., which could make the last round look like child's play. And Christine Lagarde says we're not safe enough a decade after the crisis.

U.S. jobs figures for August that were issued Friday beat expectations, with employers adding 201,000 last month after a revised 147,000 the prior month that was lower than previously reported. Wages unexpectedly clocked their biggest advance of this economic expansion. The jobless rate stayed at 3.9 percent, close to its lowest level since 1969. 

Here's our weekly wrap of what's going on in the world economy.
Contagion, Crisis, Cooling
It's not just Turkey and Argentina's problems. South Africa just fell into recession and brought the rand down with it. Indonesia's flirting with a milestone in currency weakness not seen since the 1997-98 Asian financial crisis, though its fundamentals are still looking a lot better now versus then. India also remains in a bit of danger as emerging markets pressures add to pricey oil and policy tightening to keep the rupee as the worst performer in Asia, with a dark outlook. You could always put your money in Thailand, a new haven favorite.
Over in Europe, Italy's bouts of defiance and reassurance are keeping markets on their toes while officials insist that the budget released in the coming weeks will soothe investors. The U.K. is among the most exposed developed economies amid emerging-market wrath.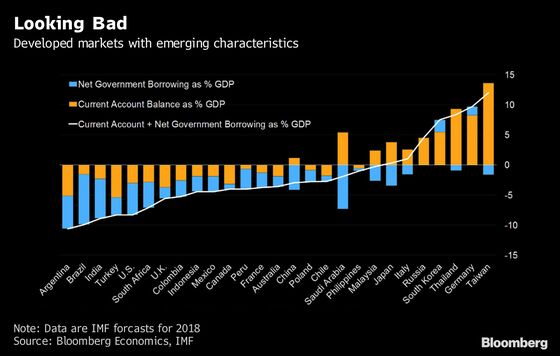 ARGENTINA INSIGHT: Peso Plunge, Charting Causes and Consequences
A next batch of American duties on $200 billion in goods could be in the offing, while a public comment period passed without immediate action and President Donald Trump is getting an earful from businesses. So far things aren't really going according to plan for the U.S. trade goals, and the deficit with China is at a record. Chinese resilience depends on the consumer. Auto-parts manufacturers in China are under fire, while the government is still eyeing ambitious goals for a new industrial age. Bloomberg Economics analyzes how the private sector is being left out of that lofty push. Purchasing managers worldwide are souring amid the tensions.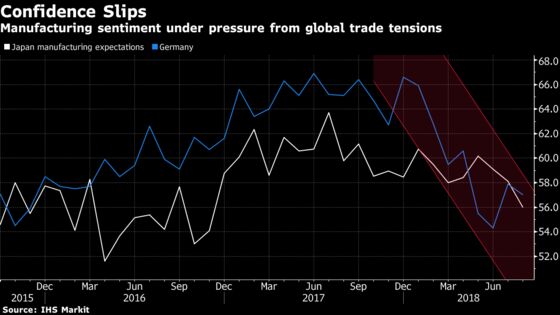 CHINA REACT: Caixin PMI Undershoot - Exporters Under Pressure
Central bank chiefs are broadly gearing up to fight market rout. Despite their president's war against interest-rate hikes, Turkey's central bank is pledging action to curb surging inflation. Indonesia's ready to forge ahead in their rate-hike onslaught, and with other rupiah-protection tools. Russia's feeling greater pressure to join the policy tightening cycle and Ukraine lifted borrowing costs to the highest level in Europe. Philippine central bankers confront inflation charging to a nine-year high. A fresh academic paper out of Brussels aims to calm European finance ministers on the end to easy money, while the OECD isn't so sanguine about the bigger picture. The Bank of Canada stood pat amid trade risk, and we can count on Australia to be on hold for a long time.
Chile Maintains Key Rate on Hold as Economic Rebound Falters
Draghi Seen Pressing Ahead With Rate Hike in 2019 Despite Risks
Japan's Business Investment Grows by Most in 11 Years
Carney Leaves Future as BOE Governor in U.K. Treasury's Hands
Nabiullina's New Right-Hand Man Debuts With Less Hawkish Message