What Economists Are Saying Ahead of Third-Quarter U.S. GDP Data
(Bloomberg) -- Friday's U.S. gross domestic product report, the last before the midterm elections that will determine control of Congress, will show just how much support the tight labor market and tax cuts are offering the economy amid rising uncertainty about trade.
While President Donald Trump said third-quarter growth would be "outstanding," economists project the expansion was a bit slower than the prior period, though still strong by recent standards.
GDP probably grew at a 3.3 percent annualized pace after a 4.2 percent gain in the prior quarter, according to the median estimate of economists surveyed by Bloomberg. That would be the strongest back-to-back quarters since 2014, amid boosts from consumer spending, business investment and the restocking of inventories.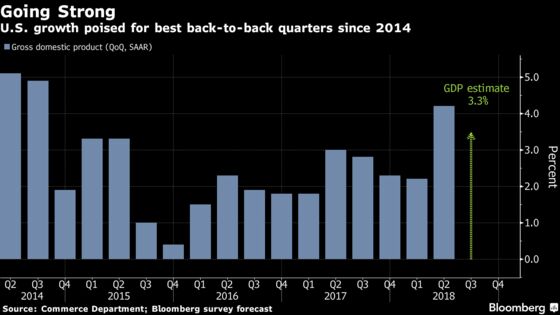 Projections range from 2.4 percent to 4.2 percent. Here's what some forecasters are saying ahead of the Commerce Department data due at 8:30 a.m. in Washington:
"Strong consumption and solid business investment continue to underpin growth," economists led by James Sweeney wrote in a note. "Trade and inventories will continue to be volatile, but will largely offset each other, with a large drag from net exports balanced by a recovery in inventories."
Business spending should remain solid, while residential investment is likely to decline. "We expect growth to remain above-trend in the medium term, but some of the strength in the past two quarters could prove temporary" as a modest slowdown in consumption and energy investment weigh on growth, he wrote.
"A big story of this quarter is the significant positive payback in inventories," which are likely to contribute more than 1 percentage point to growth, economists led by Michelle Meyer wrote. Consumer spending growth should remain robust at close to 3.5 percent while equipment and government spending accelerate, though "trade will be a big drag."
The economy should prove healthy, with real consumer spending increasing at a 3.4 percent rate, according to economist Sam Bullard. Tailwinds for the sector include job market strength, rising wages and disposable income growth, and elevated confidence, he wrote in a report.
Still, weakness in exports and a rebound in imports suggest that net exports will "exert significant drag" on overall third-quarter growth, subtracting 1.6 percentage point.