What Economists Are Saying Ahead of Friday's U.S. Jobs Report
(Bloomberg) -- Will Friday's U.S. jobs report keep telling a familiar story, or will there be a new wrinkle?
The answer will come when the Labor Department issues the July figures at 8:30 a.m. in Washington. The median estimates of economists surveyed by Bloomberg are for non-farm payrolls to rise 193,000 in July, the unemployment rate to tick down to 3.9 percent from 4 percent and for average hourly earnings to advance 2.7 percent from a year earlier, the same pace as in June. Here's what forecasters are saying ahead of the data: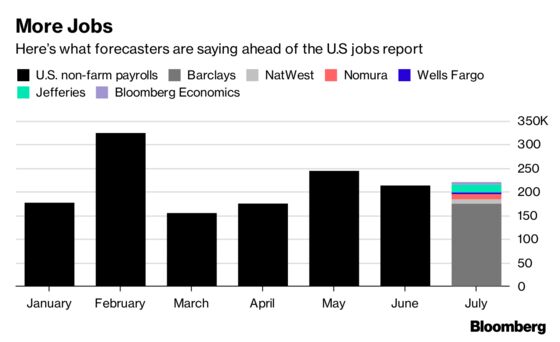 NatWest Markets (185,000)
"Our forecast for July assumes payback in two sectors, construction and manufacturing, as both those industries showed exceptional strength in recent months. Continued healthy hiring likely occurred across most other major industries," economists Michelle Girard and Kevin Cummins wrote. "Hourly earnings may have stayed benign in July. The 15th of the month did not fall into the July employment survey week (which was Sunday, July 8 through Saturday, July 14). As a result, increases in bi-monthly pay may not have been captured, leading to another moderate increase in earnings," they said, projecting an annual gain of 2.6 percent.
"Recent hiring strength, which is remarkably strong at this stage of the business cycle, has benefited from the rebound in the goods-producing sectors (manufacturing and mining). With extended goods-producing gains, we also look for broad-based strength elsewhere, including construction and professional business services," economist Sam Bullard wrote.
"While we expect a solid increase in employment growth, there is some risk that manufacturing employment gains slow somewhat in July from the notable 36,000 gain in June," wrote analysts led by chief U.S. economist Lewis Alexander. "Part of the outsized growth in manufacturing employment in June stemmed from a 12,000 increase in employment at motor vehicles and parts firms. Some of this gain was possibly due to a transitory ramp-up in light truck production following disruptions in May. Moreover, this series can show unusual behavior during the summer months as many auto plants temporarily shut down for retooling."
"July seasonally adjusted private payrolls have tended to be solid and less erratic than other months that feature big swings in unadjusted payrolls and seasonal adjustments," Ward McCarthy and Thomas Simons wrote. "Our expectations for a dip in the unemployment rate is based primarily the expectation that the size of the labor force will be steady and that many of the 499,000 unemployed June entrants to the labor force will find a job."
Analysts led by Michael Gapen, chief U.S. economist, are projecting a 160,000 gain in private payrolls. "This would represent some modest slowing from the recent pace of hiring and, in our view, could reflect increasing concerns over protectionism."
Bloomberg Economics (220,000)
"The two major themes looming over the July jobs report are sustainability and vulnerability," Carl Riccadonna and Tim Mahedy wrote in their preview. "The question of sustainability pertains to the ability of the economy to generate GDP growth on par with the second quarter's gangbusters 4 percent reading. The vulnerability issue stems from concerns that a trade-war escalation may be exerting a toll on the factory sector in particular." Even so, they don't "anticipate a slowdown to be evident in the July hiring data, based on the resilience of corporate sentiment in the month, in addition to the fact that the overall price tag of tariffs implemented to date is manageable."