What Draghi Could Do If the Euro-Area Economic Slowdown Deepens
(Bloomberg) -- The euro area's economic slowdown is fostering speculation over what tools Mario Draghi might deploy if the European Central Bank decides that growth and inflation are at risk.
A continuation of the disappointing data could force the ECB president and his colleagues to downgrade the institution's economic forecasts at their Dec. 13 meeting. They might also describe the risks to growth as tilted to the downside, instead of the "broadly balanced" phrase they've used for more than a year.
If the outlook does prove so bleak, here are some of the measures at hand.
Extending Asset Purchases
The ECB currently anticipates halting its 2.6 trillion-euro ($2.9 trillion) bond-buying program at the end of December. But that's only if incoming data confirms that price stability is within sight. An extension of purchases looks unlikely, but it can't be ruled out.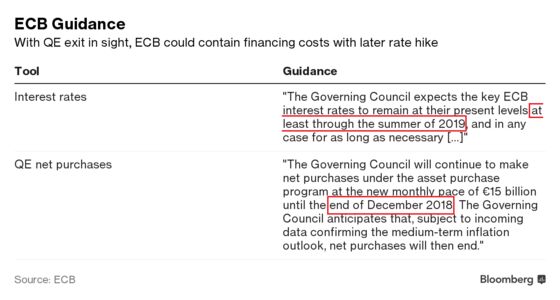 Rate Guidance
The ECB might instead tweak its guidance on interest rates to push out the date when investors predict a first hike, currently seen in late 2019. That's a view backed by Tuuli Koivu, a senior analyst at Nordea Bank AB. Barclays economist Fabio Fois says signaling a later liftoff might be easier as "the bar for re-entering quantitative easing is very high."
Some policy makers have already started brainstorming publicly about how they might map out the path of rates next year to calm market nerves.
The ECB doled out more than a trillion euros of cheap four-year loans to banks from 2014 to 2017, and some of those funds may need to be refinanced from next year. To stave off concern about that cliff-edge, policy makers could opt to offer a new round of funding, even if on a smaller scale.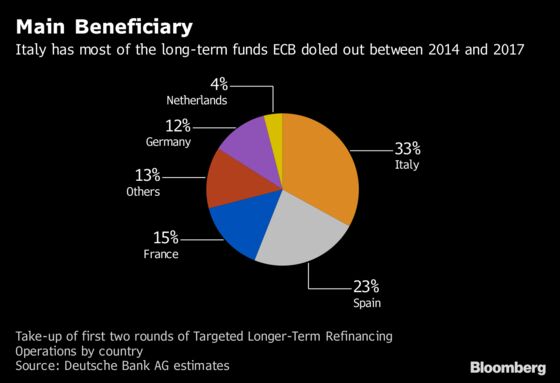 Banks have already been in contact with the ECB on the matter, people familiar with the discussions told Bloomberg, and the topic was brought up at the most recent policy meeting. Krishna Guha at Evercore ISI says it would be the "tool of first resort" and "allow the ECB to target the tightening of financial conditions where it really matters."
About a third of economists surveyed by Bloomberg expect the Governing Council to use the December meeting to adjust plans for its reinvests the proceeds of QE holdings.
Ricardo Garcia, chief euro-zone economist at UBS Global Wealth Management, says the ECB might consider echoing the U.S. Federal Reserve, which tweaked the structure of its holdings to target longer-dated assets and rein in longer-term market rates.
Another option might be to pledge to keep reinvesting for longer than the two years that economists currently predict.
Draghi has insisted that spillovers from Italy's budget dispute with the European Union, which has pushed up the nation's bond yields, are limited so far. Should that situation worsen though, he might find he has to step up to his "whatever it takes" pledge to save the euro.
That means Outright Monetary Transactions, unlimited purchases of a country's sovereign debt tied to a program of structural reforms. Italy's government would have to ask for it though -- something the populist administration doesn't seem willing to contemplate.
A drastic measure, so it would take a lot to push the ECB to such an extreme step. It would also leave the central bank with even less ammunition to fight the next downturn.
Pacific Investment Management Co.'s Andrew Bosomworth already expects the ECB to struggle to lift its deposit rate much above zero before it's constrained by a U.S. slowdown.