What China's Middle Class Says About Trump, Trade and Tomorrow
(Bloomberg) -- As China's slowdown hits home, the millions of middle class families created during the nation's boom gathered for Lunar New Year reunions, to celebrate their good fortune and ponder the economic storm clouds gathering over the country.
To take the pulse of this group, which China is relying on to raise spending and reduce an increasingly rocky dependence on global trade, we visited 12 cities in nine provinces that reflect a cross-section of China's economy. We talked to 20 people including sales managers, government officials and more than a dozen other professional workers to ask them how much the gloomy outlook has damped their optimism. The answer in most cases — it hasn't.
From a steel town in the northwestern province of Gansu to the foreign trade hub of Guangdong province in the south, most of the people interviewed said they felt the same or more optimistic than a year ago, even before the recent stock market rally. Almost a third rated their prospects five out of five for the year ahead.
But when questioned about their spending plans, job prospects and family aspirations, a more complex picture emerges, one where cracks begin to appear and caution has become the byword — a lawyer who's doing well because of a rise in property disputes, a teacher who worries her students may struggle to find work, an auto company employee who switched to selling life insurance to an aging population.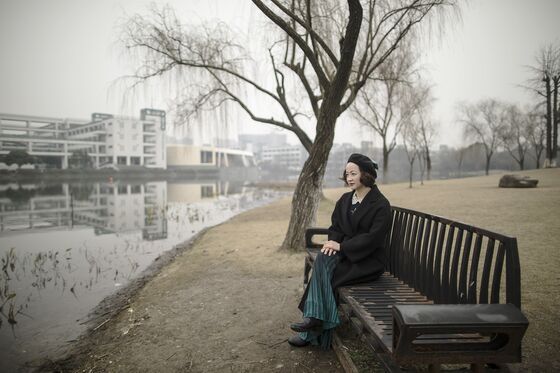 "The middle-income class is dividing," said Tao Dong, vice chairman for Greater China at Credit Suisse Private Banking in Hong Kong. Some "continue to climb up the wealth chain and are willing to spend, while the others are downgrading their consumption attitude."
Defining the Middle Kingdom's middle income group has always proved a challenge. The government's most-recent official estimate includes those households which earn as little as 100,000 yuan ($14,900) a year, a lowball number that extends the group to more than 400 million individuals. Others, who base their estimates on accumulated wealth, put the number at maybe a quarter of that.
Those we spoke to had incomes varying from around 60,000 yuan a year to almost 500,000 yuan, depending on where they lived. We looked for people who had at least one car and home and also had money to spend on luxury items and overseas holidays. Nearly all had a college degree.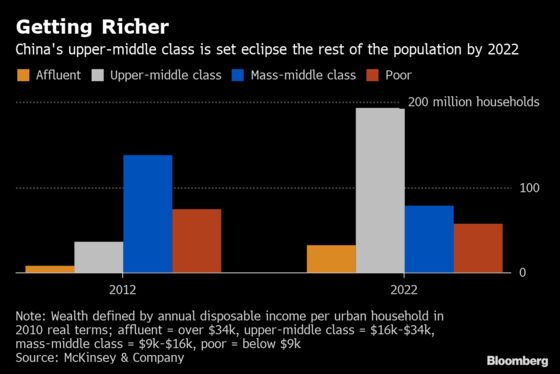 Their most common concerns were domestic — direct results of China's economic slowdown caused by rising costs, the government's clampdown on lending for businesses and the threat of falling property prices. Only in two cases did people talk about the effect of the trade dispute, with one noting that a friend had decided not to buy a U.S.-made BMW because of the higher tariffs. The other, a woman in the central city of Chongqing, said that with domestic consumption already slowing, the trade war could be a trigger that would make things worse.
If the trade dispute does drag on, the effects of higher costs could seep down to shops and factories, affecting more people. Meanwhile, China's leaders are concerned about protests over falling real estate prices, loan defaults and a volatile stock market that was the world's worst performer in 2018 before rebounding more than 20 percent this year. President Xi Jinping last month summoned top officials to Beijing for an emergency summit in which he warned that "major risks" abound and the Communist Party's "long-term rule" wasn't guaranteed.
China doesn't have a credible way of gauging consumer confidence. Morgan Stanley's China Consumer Activity Indicator takes its temperature by using a weighted average of five indicators: official retail sales, consumer lending, car sales, air travel and restaurant catering. At the end of 2018, the barometer fell to its lowest in a decade.
"I saw so many small companies run out of capital last year, after a frenzy of easy loans issued to small private developers," said Joe Zhang, serving tea to his family in a traditional gong fu ceremony at a celebratory hotel lunch in the northeastern city of Handan.
The 31-year-old, who studied in South Korea and ran a small business there before returning home, works at the state-owned Handan City Investment and Development Group Co. Unlike many who left the provinces to work in booming coastal cities, he chose to stay with his parents, where family ties helped him pursue a traditional career in one of the local government enterprises. He said he's shocked by how expensive Beijing has become.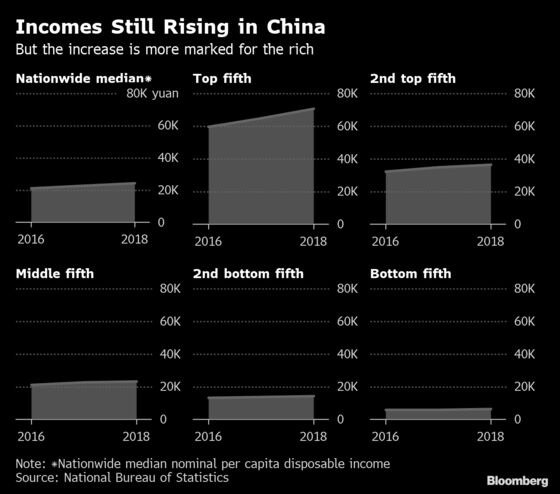 Even in his own city, where he owns an apartment on what he called the wrong side of town, he said home prices have risen so much that he and his wife will never be able to buy another.
His optimism sank last year, but is on the rise again as companies get more support from local government. He's looking forward to the birth of his second child. And while he's watched the lifestyles of those in the private sector overtake those working in bureaucratic jobs, like himself, he's grateful now for the job security.
In the financial capital of Shanghai — where house prices are almost seven times the national average — the signs of slowdown have reached into the luxury end of the market.
"Previously you had to make reservations for the Michelin-starred restaurants one month in advance," said Ma Le, who goes by Nicole Ma, an employee of a global commodities firm in her early 30s. "Now you just walk in."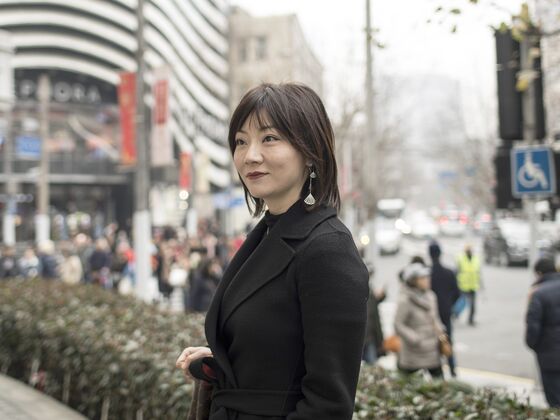 With a masters degree from the U.S. and years of experience working abroad, Ma is optimistic about her own life — she's planning to buy a bigger apartment — but fears for the country if there's a further downturn.
"I hear in other sectors about so many people losing their jobs or seeing their salaries cut," she said. "I worry that trend will continue."
That picture is grimmest in the nation's industrial heartlands. Anxing Zhao, general manager of steel sales company Baoji Fuxing Materials Co. in Baoji on the old Silk Road west of Xian, was one of the few whose optimism has declined over the past year.
"Business is bad," said Zhao, 50, dressed casually in a dark blue shirt, and often falling into a local dialect. "Steel sales are weaker, payments are slower, and it's getting worse."
Born and raised in Baoji, Zhao said there used to be up to 300 companies selling steel products in the city, but last year there were only about 100. The slowdown has hit house sales, which in turn has further curbed demand for steel.
He had planned to buy his 25-year-old son a house with the savings he's accumulated. Now he's decided to get a mortgage instead. "I have to consider saving some money for my retirement."
Upcoming events could color China's economic prospects, including talks to resolve U.S. President Donald Trump's threat of increased tariffs on $200 billion in Chinese goods, and the government's decision to shift from painful deleveraging to boosting employment and restoring domestic confidence.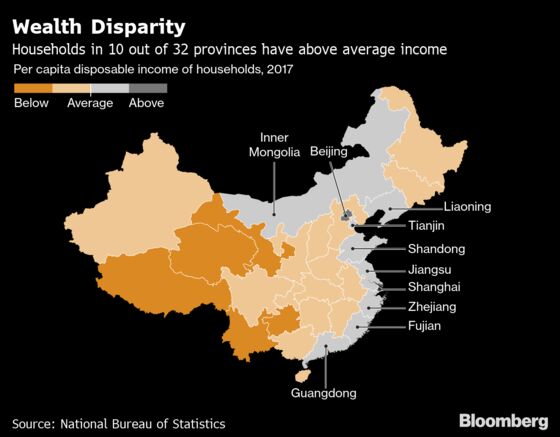 Against this backdrop, Xi will face some of China's most powerful officials at the annual National People's Congress in Beijing next month. With the Communist Party taking stock of 70 years in power and the 30th anniversary of Tiananmen reminding officials of how quickly economic shocks can foster dissent, the mood of the middle class will loom large.
Of all those interviewed, perhaps Huang Yinghua best illustrates a shift in China's middle class. Born in Hangzhou, she moved to the southern city of Guangzhou in the heart of the nation's industrial zone. After 13 years at GAC Toyota Motor, she switched jobs to work in insurance. Auto sales in China slowed last year for the first time since the early 1990s, and the government is looking to insurance companies to help tackle a demographic challenge as the country ages.
"China hasn't built up a complete social security system yet," said Huang, 43. "Many who are 40 years old now will need insurance when they reach 60 and retire."
Like many newly wealthy Chinese families, most of her assets are tied up in property and she's planning to sell two homes to diversify her portfolio before her 15-year-old daughter leaves for college, hopefully in the U.K. From the family's 4-bedroom apartment in a suburban compound dotted with tropical gardens and ponds, she runs a food blog showcasing home-baked pastries.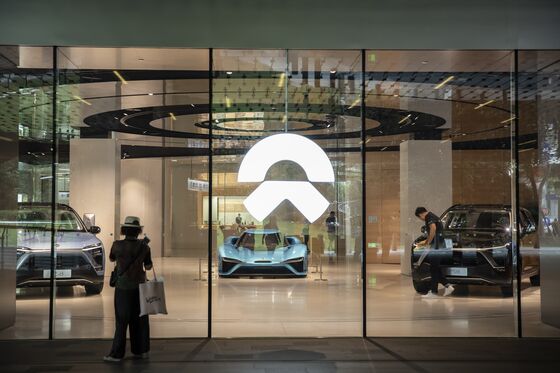 Her husband bought a third car this month, one of the popular NIO Inc electric vehicles, "chasing the latest fad." She's going to Russia, and planning a family vacation to Japan.
"For me, this is the best era," she said.
That may not be true among all the ranks of China's growing, maturing and constantly aspiring middle class, but with such a huge rise in wealth for so long, even those interviewed who are clearly affected by the downturn expect better things to come.
China's middle income earners have seen problems before, including the effects of the global financial crisis a decade ago. But in the past, most have turned out to be hiccups on an ever-rising road to wealth, smoothed over by massive government spending. That's fueled a resilient optimism.
"I believe China's economy will get better," said Zhao, the steel company manager in Baoji. "But it may take some time."