What Analysts Are Saying About Rebound in China's Stocks, Yuan
(Bloomberg) -- After the deadline passed and the U.S. raised tariffs on China, investors who'd thought it was just a bluff by President Donald Trump clinged to a new hope.
Maybe a deal will be reached and the additional levies will be canceled before they kick in.
"There is some speculation that President Trump could reverse the stated tariffs once a deal is finalized," Paras Anand, head of asset management for Asia Pacific at Fidelity International, said by email.
That kind of optimism may at least partly explain Asian equities' resilience. The regional benchmark gauge traded up 0.2 percent as of 5:12 p.m. in Hong Kong on Friday. Of course, the index was also boosted by a strong performance in Chinese stocks, with the Shanghai Composite Index closing 3.1 percent higher as state-backed funds were active in buying domestic equities, according to two people familiar with the matter.
Kazuyuki Terao, the chief investment officer of Allianz Global Investors' Japanese unit, agreed about the market speculation. "There's talk that, because the tariffs apply to goods sent from China from today which will arrive days later, there could be some kind of compromise between that time," he said.
President Trump boosted tariffs Friday on some $200 billion in goods from China and was preparing more, sparking volatility in markets. China immediately said in a statement it is forced to retaliate, though has yet to specify how. The move came after discussions between President Xi Jinping's top trade envoy and his U.S. counterparts in Washington made little progress on Thursday, according to people familiar with the matter.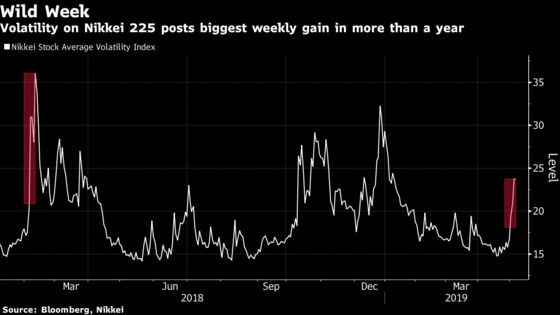 Here's what analysts and economists are saying about the developments:
"The longer the negotiations last, the greater the prospect of passing on the tax increases as price increases," said Paul Donovan, chief economist at UBS Group AG. "This would first be seen in core producer price inflation. Markets will need to monitor the Trump twitter feed for signals on the negotiations. If the Trump twitter feed is volatile (and the Trump twitter feed might be volatile), that could produce market volatility."
"The fact that the White House has increased the tariff rate suggests that the probability has risen that tariffs will increase on the remaining roughly $300 billion in imports from China that the U.S. has not yet targeted, " said Goldman Sachs Group Inc. economists Alec Phillips and Blake Taylor.

"We believe an agreement is fairly likely to be reached. That said, while we believe the White House is not that likely to implement the next round of tariffs (30% probability), we believe the risk has risen somewhat now that this latest round of tariffs has at least technically taken effect."
"It will take some more time until uncertain factors on trade talks will be fully wiped out. The upside for the stock markets is looking limited," said Ayako Sera, a strategist at Sumitomo Mitsui Trust Bank Ltd. in Tokyo.
"While we expect the impact on China's growth to be manageable (0.2-0.3 percentage points), lingering uncertainty may trigger policy response. The next thing to watch is whether and how China would retaliate. No matter what, tensions look set to linger over the coming weeks," said Societe Generale strategists Guy Stear and Klaus Baader.
"We need to watch how China will retaliate, if measures are not too severe -- people are expecting China to impose 25% tariff on $100 billion U.S. goods -- the stock market won't be bad," Steven Leung, executive director of UOB Kay Hian (Hong Kong) Ltd., said by phone.
"I don't think they will reach an agreement. The most likely case is that they go back home and discuss how to negotiate in the next round of talks," UOB's Leung said.
"Due to heightened economic and political uncertainties as a result of escalating trade conflicts, investors should be more vigilant and adopt prudent portfolio management measures -- reassess risks, reduce leverage and hedge if necessary," Margaret Yang, a strategist at CMC Markets Singapore Pte., said in an email.