What a Brexit Deal Can and Can't Do for the British Economy
The "deal dividend" promised to Britain by Chancellor of the Exchequer Philip Hammond looks further away than hoped after the U.K. Cabinet failed to make much headway on Tuesday.
Hammond said last week that a Brexit agreement would allow him to end austerity. Bank of England Governor Mark Carney said the economy would finally see a way through the fog after more than two years of uncertainty.
Time's running out, but if an accord is eventually reached -- and accepted by EU and U.K. lawmakers -- here are the areas most likely to benefit.
Business Investment
The BOE slashed its forecast for business investment in updated economic forecasts last week. Purchasing managers' surveys added to the dismal picture, with firms in all sectors saying Brexit is damping their outlook.
Carney said companies were "understandably" delaying investment, but that removing the risk of no deal could help unleash the wave of pent-up investment referred to by Hammond in his budget speech.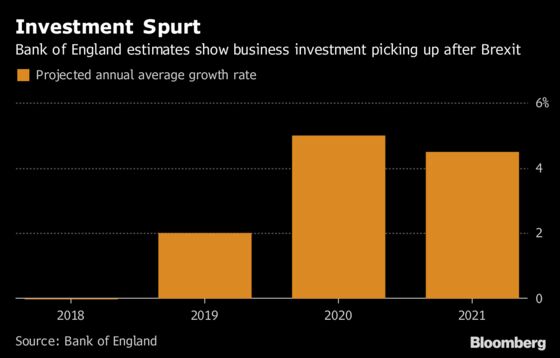 That scenario is reflected in the BOE's forecasts -- which assume a smooth transition. It sees zero investment growth this year, but 5 percent in 2020.
One of the most immediate impacts would likely come in the currency markets, which have proved sensitive to the ebb and flow of talks. Just as sterling's post-referendum plunge stoked inflation, a rally could subdue price growth.
Analysts surveyed by Bloomberg last month predicted that the pound could rally about 6 percent if the U.K. strikes a deal. Bloomberg Economics calculates that would push the BOE's inflation forecast down by about 0.4 percentage point a year.
What Our Economists Say...
"A Brexit deal could result in a sizable cyclical boost to the economy in 2019 through a number of channels. As uncertainty is lifted, some firms are likely to feel more confident about undertaking investment projects. The likely rally in the pound will expedite the recovery in household real income growth, buoying consumption. And finally, the government will be able to loosen fiscal policy -– as we have said before, that alone could lift growth by 0.3 percentage point in 2019.

-- Dan Hanson, Bloomberg Economics.
A drop in the inflation rate would ease the pressure on U.K. consumers after a sustained period where their wages failed to keep up with price gains. That could boost consumption.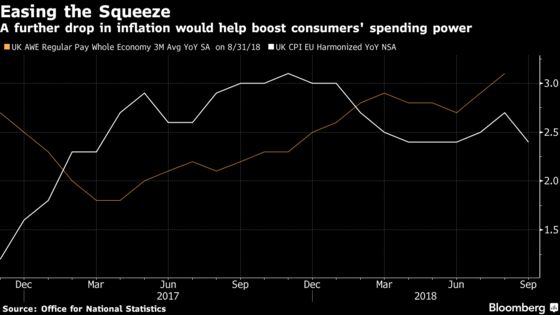 While Carney said last week that consumers were less wary than businesses, confidence indexes have been dropping in recent months, with a lack of progress in talks often cited as the reason.
Read more:
Hammond: Negotiated Deal Would See Quick Return of Confidence
Investors Love to Hate Gilts as Brexit Divorce Deal Signs Grow 
Another source of concern for housing has been the slowing real-estate market. Tax changes and higher interest rate rises have been partly responsible, but Brexit uncertainty has played a major role.
The Royal Institution of Chartered Surveyors' report for September showed a slump in London prices and a fifth straight month of stagnation in the U.K. as a whole, with the divorce dominating the concerns of agents in the capital. Allan Fuller of Allan Fuller Estate Agents said that "the future of the market depends almost entirely on Brexit negotiations."