Weinstein Was Jekyll, Hyde, Then Rapist, Witness Tells Jury
(Bloomberg) -- A onetime aspiring actor raised as an evangelical told jurors in the Harvey Weinstein trial that the movie mogul switched between cajoling and raging at her "like Jekyll and Hyde" as her dreams of stardom ended in a series of increasingly violent sexual encounters.
Jessica Mann, the second of two women Weinstein is accused of assaulting, took the witness stand Friday to recount how he turned on her after she agreed to a consensual relationship.
"I made the decision to be in a real relationship with him, and particularly because I was sexual with very few people," Mann told the jury. But "it was extremely degrading from that point on."
Raised in rural Washington state, Mann was 27 and living in Los Angeles when she met Weinstein at an industry party in the Hollywood Hills in late 2012 or early 2013, she testified. He bought her books on the movie business and invited her to industry parties. He told her and her roommate they'd be perfect to play the leads in a film he was producing called "Vampire Academy."
Mann, who'd already worked on independent films, said she was elated to finally get a break after facing opposition from her conservative family. She thought he was a "jolly" old man, she told the court.
"It made sense, this guru of Hollywood telling me the history I needed to know to become a better actress. When I met Harvey I'd given up a lot" to succeed, she testified. She said she thought God was responding to her "having committed to myself and committing to my dream."
Of meeting Weinstein, she said, "I thought it was a blessing."
The former power broker, now 67, is charged with rape and predatory sexual assault and could spend the rest of his life in prison if convicted. Mann is one of two women the Manhattan district attorney charged him with attacking. Weinstein maintains that any sexual activity was consensual. Cross-examination by his attorney Donna Rotunno, which began late Friday, will resume on Monday.
On direct examination by a prosecutor, Mann described to the jury her first encounter with the producer, at the Montage Hotel in Los Angeles. There, she said, he cornered her in his room, pushed her onto the bed and performed oral sex on her while her friend was outside. She said she decided at that point to have a sexual relationship with Weinstein short of intercourse.
"When I first saw him naked, I was filled with compassion, absolute compassion," Mann told the jurors in New York state court in lower Manhattan. "It seemed like his anger came from a place of pain."
But Mann said Weinstein soon turned on her.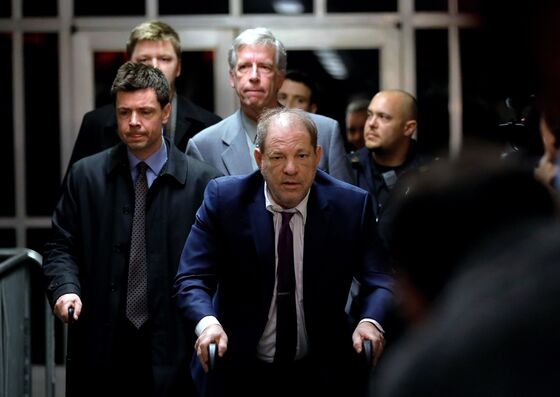 "It was basically him wanting to see me, needing a fix like a drug addict," she said. He was "manipulative" and alternated between cajoling her, mocking her naivete and ultimately exploding in anger, she told the court. It was "like Jekyll and Hyde," she said.
On a trip to New York in March 2013, she was to have a breakfast meeting with Weinstein at the DoubleTree Hotel, including her roommate and a friend, she testified. Instead, she said, he arrived early and dragged her to his hotel room. Mann said he slammed the door shut each time she tried to get out, then pulled her onto the bed.
"I kind of shut down a little bit," she said. Fighting back tears, Mann told the jury of seven men and five women that she felt "panic, because my worst nightmare I felt could now happen."
Weinstein barked a series of commands at her, she said.
"I gave up at that point," she said.
Weinstein walked into the bathroom, returned and raped her, she testified. Mann said she then went to the bathroom and found a used needle and syringe there. She later realized they were for an erectile dysfunction drug.
Weinstein assaulted Mann again in November of 2013, this time at the Peninsula Hotel in Los Angeles, after she told him she was dating an actor, she testified.
He'd once warned her, "You can date anyone you want, but not someone in the industry. I find that disrespectful," she said. She was nervous about mentioning the actor, she testified, and said to Weinstein, "Harvey, you know my dreams and my hopes are to find a relationship."
When he learned it was an actor, he began screaming at her, Mann said. He "ripped" her from her chair and dragged her to the suite's bedroom, she said. Mann said she stared at the TV during the assault. Later, she told the court, Weinstein apologized.
"We're friends, right?" she said he asked her.
The case is People v. Weinstein, 450293/2018, New York State Supreme Court (Manhattan).