Weidmann Wins Nowotny's Backing to Replace Draghi at ECB Helm
(Bloomberg) -- If German Chancellor Angela Merkel really has given up on backing Bundesbank President Jens Weidmann to succeed Mario Draghi as European Central Bank chief, that's a mistake, according to his Austrian counterpart.
"I would have welcomed Weidmann's candidacy" for ECB president, Ewald Nowotny, governor of Austria's central bank, said in an interview with Oberoesterreichische Nachrichten. "I consider it a serious political mistake by Angela Merkel that she is no longer pursuing Weidmann's candidacy. It would be good if someone from the largest economy in the euro zone heads the ECB."
Nowotny's comments highlight the difficulty in reading Merkel's strategy to secure one of many upcoming top European jobs for a German. Weidmann, long seen as the frontrunner to succeed Draghi when his term expires in October 2019, fell back in the pack of contenders after she apparently decided to prioritize the European Commission's top post.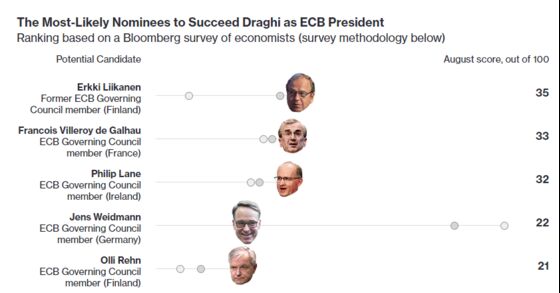 Common wisdom would suggest that Germany couldn't also claim the presidency of the ECB, which hasn't had a German leader in its 20-year history.
Merkel acknowledges she can't have it both ways, but has also insisted that pushing for Weidmann isn't ruled out. According to the chancellor, the road to certainty is "endlessly long."