ECB's Weidmann Differs With Lagarde On Euro-Area Inflation Risk
(Bloomberg) -- European Central Bank Governing Council member Jens Weidmann said it's possible euro-area inflation will remain above the 2% target in the medium term and not slow as quickly as many of his colleagues currently predict.
"Higher inflation expectations and higher wage growth could strengthen price pressures in the medium term," Weidmann said Friday in a speech in Frankfurt. "The fallout from the pandemic could have a marked impact on the inflation setting. And it could well be that inflation rates will not fall below our target over the medium term, as previously forecast."
The remarks contrast with other ECB officials who say consumer prices -- rising at the fastest pace since 2008 -- will start to fall back toward the official goal from next year. His comments come as the resurgent Covid-19 caseloads trigger harsher restrictions in central Europe, threatening the continent's economic recovery. 
Addressing the same event earlier Friday, President Christine Lagarde reiterated that the ECB shouldn't tighten monetary policy, despite "painful" inflation. A subdued mid-term outlook for prices is a key reason for the bank not to withdraw stimulus measures.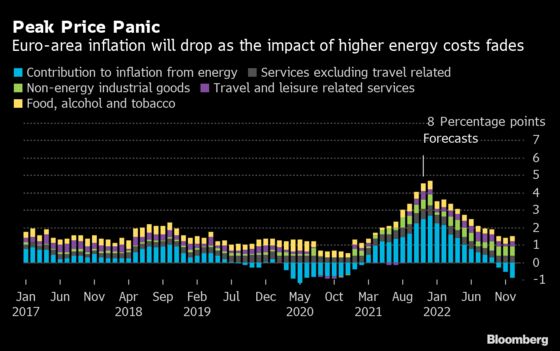 "We must not rush into a premature tightening when faced with passing or supply-driven inflation shocks," Lagarde said. Instead, she advocated "nurturing" forces that could allow the bank to escape the low-inflation environment it found itself in before the pandemic struck.
The ECB is set for a crunch meeting in December, when it will determine the future of its asset-purchase programs. It will also present new macroeconomic forecasts, with the 2024 inflation outlook comprising an important part of its decision-making. 
Investors, meanwhile, abandoned bets that interest rates will be lifted next year after insistence from policy makers that such a move is unlikely. The shift in those wagers may have been linked to developments around the pandemic, with Austria imposing a national lockdown in response to surging coronavirus infections.
Weidmann, who's stepping down as head of the traditionally hawkish Bundesbank at year-end, has frequently warned about the risk that prices could rise more strongly than foreseen. 
"The elevated inflation rates will probably take longer than previously projected to recede again," he said. "Indeed, supply shortages may wear on for some time, and energy prices have surged further. Beyond that, the price outlook is exceptionally uncertain.
He's not alone in striking a cautious note. Pierre Wunsch, who heads Belgium's central bank, said in an interview this week with Econostream Media that "it wouldn't take much for realized inflation in 2023 to be at 2%."
Executive Board member Isabel Schnabel warned that while the ECB must keep a "watchful eye" on upside inflation risks, it also needs to avoid premature monetary-policy tightening.