Weidmann Joins ECB Doubters on Draghi Move to Soften Rate Impact
(Bloomberg) -- Go inside the global economy with Stephanie Flanders in her new podcast, Stephanomics. Subscribe via Pocket Cast or iTunes.
Bundesbank chief Jens Weidmann broke his silence on Mario Draghi's initiative to rethink the institution's negative interest-rate policy, joining colleagues in speaking out against the move.
The German, commenting on the European Central Bank president's push to consider softening the effects of sub-zero borrowing costs, said so-called tiering to partially relieve banks from the impact may offer some advantages. That's outweighed by the risk of sending the wrong message on when interest rates will rise, just as the outlook for growth and inflation shows improvement.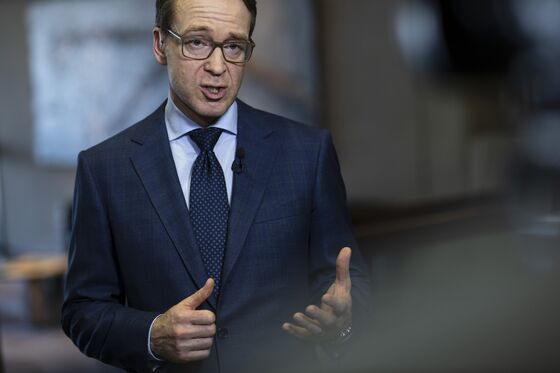 "The potential relief through interest-rate tiering, as it's currently being discussed, would certainly be felt, but ultimately be negligible," he said in Frankfurt on Friday. "It would probably be less significant than the additional burden from the shift in normalization expectations to which this debate has led."
The remarks by Weidmann, the central bank chief of Europe's biggest economy, are his first with an outright opinion on recent discussions to mitigate the effect of negative interest rates. He previously only stated that he "wouldn't necessarily overestimate" the effect of a potential tiering measure.
Bank of France Governor Francois Villeroy de Galhau pushed for a rethink at the ECB's March meeting. The discussion gained importance since the last Governing Council gathering in April, when Draghi said policy makers would assess the impact of negative rates.
Many analysts took the discussion to mean the ECB was preparing to keep borrowing costs lower for longer, or even implement further cuts, as the economic outlook has shown few signs of improvement since a slowdown began in the second half of last year. But policy makers have lacked enthusiasm on the matter and some doubted it will actually happen, people with knowledge of the discussions told Bloomberg last month.
On Friday, Weidmann also argued that although he doesn't see overall signs of improvement in the German economy yet, strong consumption and labor-market trends bode well for an eventual pick-up. He warned against economic pessimism, arguing "important growth drivers are still intact."