Weidmann Comeback Could Yet Jolt ECB Race for Draghi Succession
(Bloomberg) -- In the race to succeed Mario Draghi as European Central Bank president, Germany's one-time favorite could yet stage a comeback.
Bundesbank President Jens Weidmann, who ended 2018 languishing in Bloomberg's survey of economists behind three other rivals for the prize, may make up lost ground after a double boost in recent days.
First, Germany's government last week decided, after apparent hesitation, not to propose a replacement for ECB Chief Economist Peter Praet, pointedly keeping alive Weidmann's candidacy. Then Italy's finance minister, Giovanni Tria, confirmed a thawing in his country's longstanding opposition to the Bundesbanker when he told Die Welt that he's "open" to the prospect -- and "unbiased."
"The battle to find out who the successor will be really is the most important prism for us to be looking at European monetary policy," Stephen Isaacs, chief investment officer of Alvine Capital Management, said on Bloomberg Television on Monday.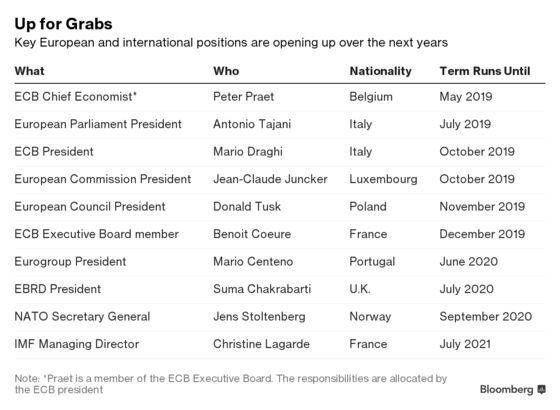 The race to succeed Draghi in November remains likely to be settled in a bout of horse-trading for European Union positions, including the presidents of the Commission, the Council and the ECB, some time after European Parliament elections in May.
Weidmann was the early favorite for economists, in a contest that was likely from the start to be dominated by northern Europeans, after southern Europe's current turn with Italy's Draghi. Former Finnish central bank Governor Erkki Liikanen, his successor, Olli Rehn, French Governor Francois Villeroy de Galhau and ECB Executive Board member Benoit Coeure are among other contenders who might geographically qualify.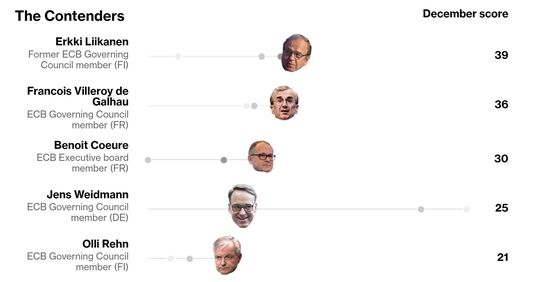 The German's opposition to quantitative easing has haunted his candidacy from the start, with some officials in European capitals from Rome to Paris worried he could become an even more powerful obstacle to stimulus in a future downturn.
While Weidmann has tried to assuage such qualms, he hasn't tempered his views on the need for stimulus withdrawal. He told an audience last week that since normalizing policy will take years, that's "all the more reason not to squander any time."
The Bundesbanker's prospects slumped as fellow countryman Manfred Weber, leader of the largest bloc in the European Parliament, maneuvered for his own candidacy to replace Jean-Claude Juncker at the helm of the EU Commission. By late August, German Chancellor Angela Merkel was said to have decided that it's more useful for her government to secure that job rather than the ECB role.
While that could still happen, Weidmann, her former adviser, remains a potent pawn for the chancellor to deploy in the EU negotiations that will ensue. Unlike Weber, a career politician relatively unknown outside the political salons of Strasbourg and Brussels, Weidmann runs his own organization, brings the intellectual clout of a top-level policy maker and has eight years of experience on the ECB's Governing Council.
Weidmann's candidacy also offers Germany the prospect to claim the prize of ECB chief that eluded it throughout the history of the euro, despite being Europe's biggest economy, and the home and original inspiration for its central bank.