WEF's Schwab Still Has Hope for Singapore Davos Meeting
(Bloomberg) -- World Economic Forum Founder Klaus Schwab is "hopeful" the event due to be held in Singapore will take place and warned a failure to tackle climate change could be even more socially damaging than the Covid-19 pandemic.
The WEF's annual meeting in the Swiss ski resort of Davos, which attracts heads of state, celebrities and corporate executive, is being conducted virtually this year due to the pandemic. An in-person event is scheduled to take place in Singapore in late May.
"We always have hope for the best and prepare for the worst," he said in an interview with Bloomberg Television's Francine Lacqua on Friday, responding to a question about whether the Asia forum would go ahead. In light of countries such as the U.S. accelerating the pace of their immunization campaigns, he said he was "hopeful."
Still, he warned Covid-19 may haunt countries for some time to come, especially if there are further mutations of the virus.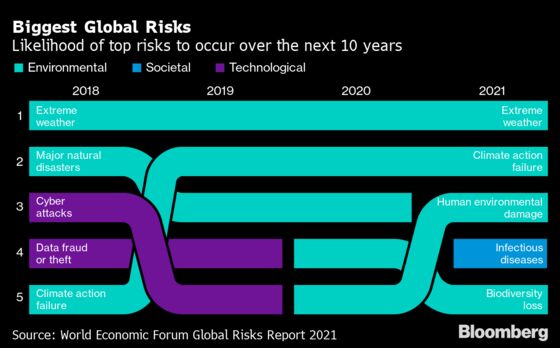 With the global economy in the throes of its worst crisis in decades, Schwab also urged countries to tackle future challenges by making society "more resilient, more inclusive and also more sustainable."
"Climate change, if we do not tackle it, could be the next, -- let's say, virus, with much more damaging and long-term consequences compared to Covid-19," he said.