Weather, GM Among Crosscurrents Seen Buffeting U.S. Jobs Report
(Bloomberg) -- Economists project nonfarm payrolls climbed by about 183,000 last month, one of the highest estimates this year ahead of a jobs report, while unemployment remained near a half-century low and wage gains stayed solid.
Such a figure in Friday's Labor Department data would reflect a temporary boost from General Motors Co. autoworkers returning from a strike. While gains have broadly moderated from last year's robust pace, the labor market still isn't close to signaling recession, a fear that confronted investors earlier this year but has since faded.
The data will be released at 8:30 a.m. in Washington.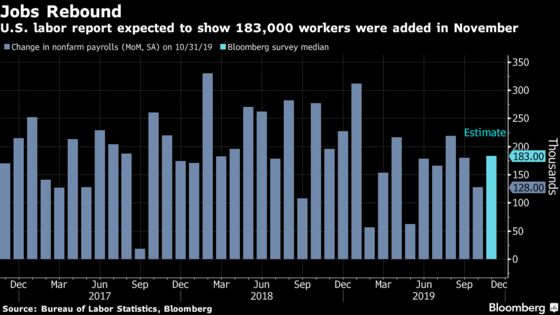 Estimates in Bloomberg's survey range from 70,000 to 237,000, while the median projection for private payrolls growth is 179,000. The report is expected to show the jobless rate held at 3.6% for a second month while average hourly earnings climbed 0.3% on the month and 3% from year earlier.
Manufacturing payrolls, which tumbled in October by 36,000, the most in a decade, amid the GM strike, are projected to make up lost ground with a 40,000 increase for last month.
Here's what economists are saying, with payroll projections listed from low to high:
180,000 jobs, 3.6% unemployment, 3.1% annual wage growth
"The tight labor market may have pulled forward hiring or reduced

layoff

activity," Spencer Hill wrote in a report. "However, temporary factors including the late Thanksgiving holiday and snowstorms in the Midwest will likely weigh on" the job numbers.
180,000 jobs, 3.5% unemployment, 3.1% annual wage growth
"We expect the November payrolls report will show continued solid job growth," economists led by Ellen Zentner wrote. "Headwinds to our November forecast come from weather, slightly higher jobless claims during the survey week, and mild consumer confidence."
183,000 jobs, 3.6% unemployment, 3.1% annual wage growth
"We expect details of the employment report to show continued strength in service-industry employment," Veronica Clark and Andrew Hollenhorst wrote. "While we expect an overall solid November employment report, markets are now pricing a scenario more in line with our fairly optimistic base case. This implies that market risks tilt to the downside with a stronger reaction to a negative than to a positive surprise."
190,000 jobs, 3.6% unemployment, 3% annual wage growth
"While we look for hiring to finish the year slower than last year, job gains should remain above what is estimated to be necessary to hold the unemployment rate steady," the firm's economists wrote. "There were five full weeks, compared to four, between the October and November payroll surveys, which traditionally results in stronger wage growth. These calendar considerations alongside the return of highly-paid GM workers should underpin earnings growth in November."
205,000 jobs, 3.5% unemployment, 3% annual wage growth
"Slowing growth is already taking a toll on the pace of hiring," economists Carl Riccadonna and Yelena Shulyatyeva wrote in a report. "The six-month trailing average of nonfarm payrolls slipped to 156,000 in October compared to 234,000 in January. While slower job creation will weigh on household income generation, a tight labor market will mute the impact by averting a material deceleration in wage pressures."